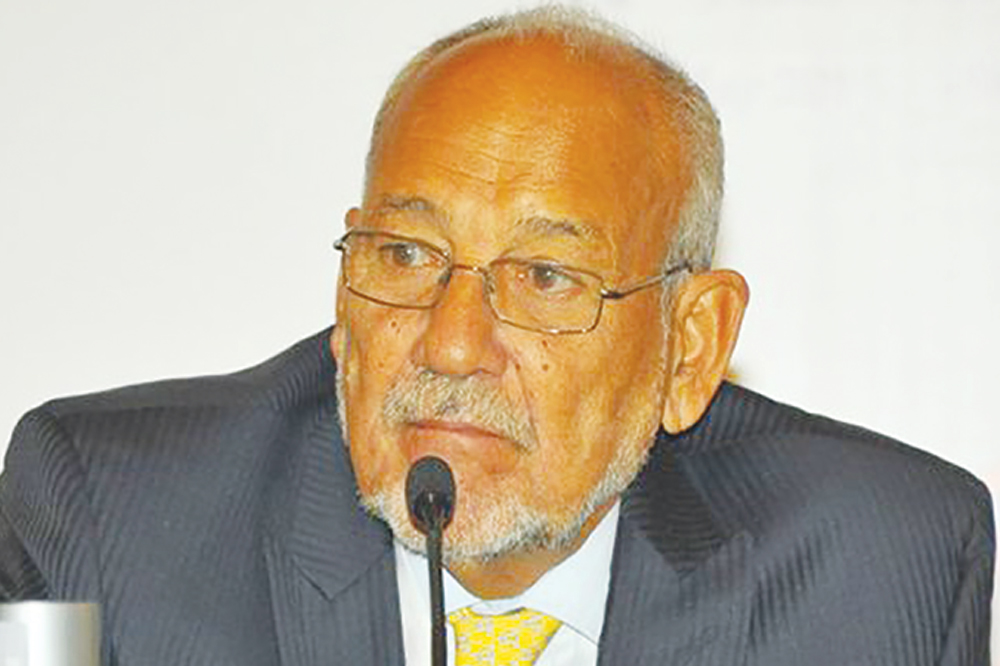 Tribute
December 14, 2021
Members of Parliament pay tribute to Sir James
FORMER PRIME MINISTER, the late Sir James Mitchell has been heralded by parliamentarians as a great man and leader who has left behind an equally great legacy.
Mitchell, the founder of the New Democratic Party(NDP), and this nation's second prime minister died on November 23, 2021. He will be accorded a state funeral and will lie in state at the House of Assembly this Friday, December 17. Several parliamentarians rose during yesterday's sitting of the House of Assembly to pay tribute to the former parliamentarian who served as Member of Parliament for The Grenadines, and later the Northern Grenadines when the constituency was divided.
Opposition leader and the current president of the NDP, Dr Godwin Friday said in Parliament yesterday that this country lost "a dear and devoted servant of the people" when Sir James passed away last month.
"The more I reflect on the life and accomplishments of Sir James Mitchell, the more I feel we may never see another like him in this country. I feel privileged to have known him and to have worked with him over the years and like many, I am still comprehending, or seeking to, his loss.
Friday, who followed in Mitchell's footsteps as the parliamentary representative for the Northern Grenadines, acknowledged that Sir James has served in the House of Assembly longer than most of the current serving parliamentarians.
"He served for 35 years in this chamber and his service didn't end when he left competitive politics. He remained committed to the cause of bringing a better life to the people of St. Vincent and the Grenadines," he said.
Friday said his awareness of politics came with the awareness of "Son Mitchell", a name affectionately used to refer to the former prime minister.
"And he was there throughout my youth to the point where he passed the baton to me when he retired from politics in this house in 2001. Those are very big shoes to fill because Sir James, he did it all in his time…" the parliamentarian said.
He described Sir James as being a champion for persons living in the Grenadines as he was someone who would stand up for them against all odds, with courage and dedication.
Friday added that Vincentians both at home and in the Diaspora also grew to appreciate Mitchell's dedication, talents and "profound desire to serve them to make this country better".
Sir James died at the age of 90.
St Clair Leacock, the Parliamentary Representative for Central Kingstown felt it was fair to say that in all of Sir James' leadership, "he never lost that important character of the value of learning to listen and to submit one's self to the greater good and that's why in the end, he left with that distinction, Prince of Peace…" Leacock said Sir James asked him to run in East St George in 2001 but he declined.
He added that the founder of the NDP also offered him the presidency of the party on another occasion, which he also declined out of loyalty.
Leacock said he spoke with Sir James on the Sunday before he died via a video call.
"He wanted to see me continue to assist his great party and still wants me to do so to the best of my ability and into the future," Leacock said.
He added that, "there is no doubt that lots of good will be said about him".
"But as we who are serving now recognise our own mortality — and I don't think as politicians anyone has to remind us of our own imperfections, we confess them ourselves; there can be no doubt, whether the history is revised or otherwise, his will be a hard act to follow," Leacock said.
Prime Minister Dr Ralph Gonsalves noted that he served in the House of Assembly during the last seven years of Sir James' tenure as parliamentary representative and an extended run of 16 years as Prime Minister of SVG.
"Because I hold the office as prime minister for a few years longer than he held, I have an appreciation of the nature of the work that he did and the challenges which he encountered," Gonsalves said.
The prime minister spoke about the love for literature which he shared with Sir James, who introduced him to Canadian novelist, Margaret Atwood.
"He said to me, 'Ralph, across the whole of the Caribbean, since independence, maybe there's only four of us who are Prime Ministers, who write on an ongoing basis'. He said 'Eric Williams, Michael Manley, you and me'," Gonsalves recalled.
Gonsalves noted that Mitchell was not afraid to take on the party he founded, if the matter at hand was in the interest of the entire country.
"…The last issue on which he spoke publicly, was the issue of the necessity and desirability to have requirements for certain public frontline workers, requirements for the vaccine. Indeed, he was urging such a public policy publicly for months and I kept saying well, you have to have a discussion and you have to do things on a timely basis. But he took on even those who normally would be within his gap and that to me, is an important legacy of Sir James…" he said.