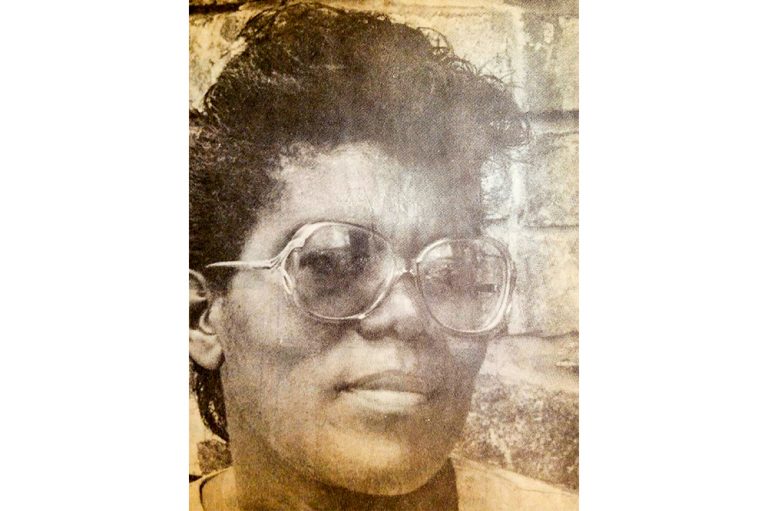 Tribute to Mary Hutchinson
by Nephew, Nkarlo Alexander
 
 Thirty years ago this month we lost a bright light in Union Island, and in my family. The second daughter to Jonathan and Ellen Alexander,she was a sweet candle in Jesus. Served the Adventist church as the clerk in the children's department, in Sabbath School, in Dorcas (community service), on the choir, etc; helped to fund the church's Christmas parties for the children in the community (with gifts and food, etc). Probably helped to build the present church (in more ways than one), helped to influence many of her friends and employees into the church. Helped to lead many souls to Christ. She was faithful until she died. In fact, in the few months before her passing a prominent religious person from another denomination came to her telling her that "I had a dream that you should drink this crab water (crab steamed) and you will get better." Although she had a strong desire to be well, she had a stronger desire to be faithful to God's word. She refused the water (crab being biblically unclean).  The lady thought it was a mistake….but to Mary she was determined to be true to God until her last breath.
 Not only to her church, she was a servant to the community. She encouraged many people to better themsleves by going abroad to study, she empowered many women to break loose from unworthy men (by helping them to open up a bank account, build wealth and be independent), she gave personal counsel, sought to protect the innocent, secretly aided those in distress, employed many with little means, supported local farms, encouraged marriages (for those living together out of wedlock), and sought that the youth learnt a skill. Her business was a place of solace, consolement, consultation, and reprieve. She sent boxes of food items to the needy at Christmas time, sent her vehicle as an ambulance in emergencies, gave people outings to places they had never dreamt of going (to Sun Princess cruise line off the coast of Palm Island,to Palm Island Resort, etc).
 A stalwart in government, she served as a senator, as deputy speaker of the House of Assembly, as the first area representative for the Southern Grenadines (a position you could say — created just for her), traveled around the globe including to aid the plight of those in need in Africa, stood with dignitaries (including with the "iron lady"—first female Prime Minister of the United kingdom and longest serving in the 2Oth Century), and yes, if my memory serves me well, she even caused the government to rearrange their meeting schedule because she would not attend on Sabbath.
 A gem in her family: first to get married, eldest one living at home (Union Island), helped out parents (I think also grandparent—Pappy's mother), bailed out family who needed a hand, her house always open to her grandchildren, kitchen always serving extra food in the week and on Sabbath, and always keeping the connection between Valley (where she grew up) and village (where she lived) inseparable.
 A great business woman she: helped to transform a small blue shop mainly of tailoring merchandise…into a grand multipurpose establishment selling everything, from kerosene, to school uniforms, to curtains,to groceries, to tanks, to compressed air,  you name it.
Her hand was blessed. Knowing how to market (how to mark the right price to stay competitive), knowing how to keep customers (love and compassion), being a visionary for future undertakings, and even expanding beyond little Union Island (if I can recall she had clientele from Petite Martinique, etc.) She would even think of family when doing specialty orders from St. Martin, etc.
 A great mother — just look at her children and how they treat people and what they became, a great grandmother (well everybody knows how she was with Corin, Carter, Nakeylia, Latisha, Akini, Malcom, and then baby Vaniel…before she passed…them grand were her life). And they loved her. The bond between her and Carter was interesting to observe. A great inspirer (many of the extended family remembered her words of affirmation and inspiration that influenced them into the future—-including that Dr. Kinta).
 A great Wife: She honored her husband until the end. Great teacher (inspired many minds…and still known as teacher Mary).  Even after leaving teaching, she would bring books and pencils and other needed items to the school—-to distribute to each child. Shaking every hand and singing and dancing to the song " 'tis love, 'tis love, 'tis love that makes the world go around". Great aunt…I too was impacted by her call to Excellence in all that you do.
 Mary Magdalene Alexander-Hutchinson. Gone, but the legacy of spirituality, education, family devotion, and helping others continue. Just look around at her posterity—-the grandchildren…. Ivy League grads,  doctor, dental specialist,  entrepreneur, teacher, nurse, neuroscientist, and tech guy (working for Instagram)…just to name a few. This is God. To God be the glory. Let us be faithful so we can see her again…making sure we strengthen our walk with Christ. Let us help someone else along the way…like she did for so many. And let us give back to the place she served so well—-Union Island, sweet Union.