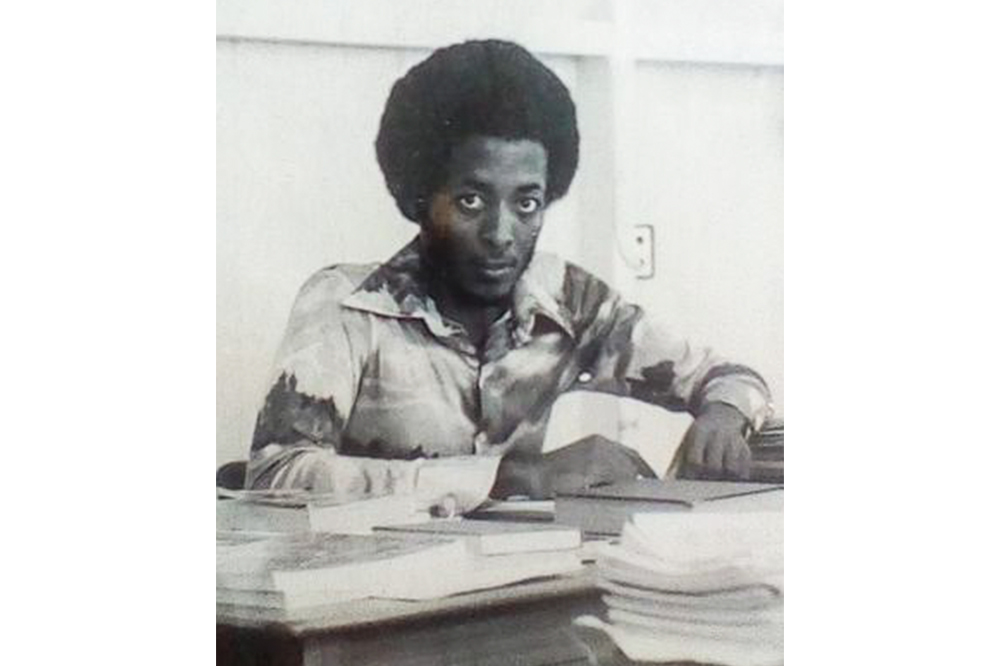 Tribute
September 15, 2020
Remembering and Paying Tribute to Francis "Jeeks" Ollivierre Delimore
by Stanley A Ollivierre
FRANCIS DELIMORE (aka Jeeks) was a humble, quiet, kind hearted, spiritual, multitalented, gentleman with a solid educational background and had the potential to be anything he aspired to.
His traits came from his father, a qualified accountant sportsman (cyclist) — a Panamanian with ties to SVG. Surprisingly the government of the day was shortstaffed and solely depended on his stenographic shorthand skills for courts preceding.
A son of the soil, Francis was born to the late Novilla (Ma) Dublin from Cane Hall Roundabout. He was a past student of the Boys Grammar School and an A'level graduate of the Upper Six of the time. A member of the SVG Cadet Force with a notable rank status as one of his elderly siblings can vividly testify, since assisting him with the only $100 savings she had saved, only to surrender it to send him to Grenada, journeying on behalf of the cadet force.
After graduating Upper Six with A' levels, he was enrolled as a very young educator teaching foreign languages (French & Spanish) and was very fluent in French, sometimes acting on behalf of the government as an interpreter, thus making a name for himself.
Math, Economics and English were others subject areas he taught at the Boys Grammar School and the JP Eustace Secondary school. He committed his time freely, tutoring classes to children's friends, family, teaching adults literacy to his church assembly, even naming one of the evening classes "Girls Intelligence " I can recall him making several applications to the most reputable institutions and businesses of the time… Like that of Barclays Bank, Boys Grammar School, NBC Radio station and others and all had responded positively.
He made a humorously mockingly gesture to raffle all responses received in a box, to determine what position to fill.
Jeeks loved the Arts , a steadfast member of the Hairoun Dance Theater and a member of the late Tracy Connell Drama & Dance Group and was much affiliated with other cultural and sporting organization like the Power Stars Steel Orchestra subsequently offering me my very first exposure to designing and printing the members t-shirts. He propelled the start up of (DRAGS) bongos drumming group, while donating one large bongos drum to the guys in the community, as six and seven persons at one time would flock to that one drum anxious to beat a rhythm.
Francis was also versatile musically while playing several instruments He was so fascinated with photography and the processing of film, that he formed a photography club, even a freelance writer subscribing to the local newspaper at times.
and has inspired and influenced a lot of persons to be what they are today.
A living true testimony is that of his youngest brother, Godfrey Dublin of the famous Caribbean band (TOUCH). Francis preferred to sing, being a vocalist for various underground upcoming bands that of (Invoice Combo) while singing up to the moment.
He was so fascinated with photography and the processing of film, that he formed a photography club, even a freelance writer subscribing to the local newspaper at times.
Very much influential and fashioned himself with the ideologies and culture of the Black Power Moment and was in solidarity with the empowerment at the time. However I can recollect him giving me a brief summary and dramatic details on the street of Kingstown, while he was trying to escape the tear gas melted down by the police on the teachers strike in 1975.
In his personal life, his closest contact and relationship which he maintained beyond the seas was that of his elderly sibling Leah; she played a mother figure role in his childhood days, while he cherished her throughout his life and maintained that bond of communication. Different birthday celebrations were exchanged with greetings to reflect on the past and to manifest about their long desiring connectivity in Christianity and to share and spread the word.
His nephews and nieces and friends can never forget. In the wee hours of the morning, before heading off to our respective schools, our dear uncle Francis would awake us, to "warm up" by running around the block. A self made program of strenuous yoga exercises would be rolled out daily with calculated competitive marks tallied to a total then rewarded to the end.
While at the Grammar School his life was changed, a spiritual calling was made on his life for better becoming a true devoted Christian and preacher at the Church of God of Prophecy in Belair. He shared how many times he had read the entire Bible back to back, his tithing and the daily habit of long fasting and praying was much of a concern to us. His tithing by far exceeded the 10% if not his entire salary, every month he dispatched monetary contributions to underprivileged brothers and sisters in the church, so much so, that his mother was dismayed by his decision and cried out at times.
He tendered his resignation from teaching, then migrating to Canada to partly fulfill a mission to fully assist his brothers and sister in faith, for better advancement, but life changes and this never materialized. Eventually he married and had six children – five boys and one girl. For forty odd years he remained abroad never to return to SVG but sadly passed away and is terribly missed as he fell victim to the dreaded corona virus.
Francis our brother, uncle, friend and hero had demonstrated the love, care and understating he had for mankind.
His legacy lives on in the lives of his family and would transfer to the next generations, for it is what we perceived as he helped shape and paved a good path for our future life.
He is a perfect example of what we are today. May his soul rest in peace June 25 1954 to August 27 2020.