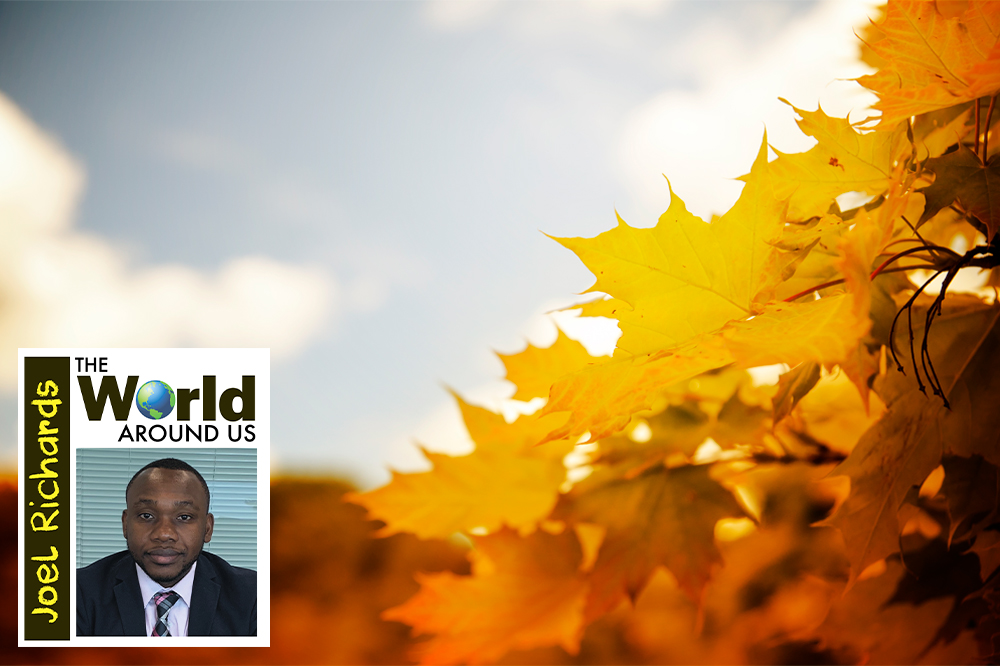 The World Around Us
November 11, 2022
A basket to hell
In the northern hemisphere, autumn officially started on 23rd September. Autumn is typically marked by considerably cooler temperatures. However, this autumn has been different as much of Europe, and elsewhere, have experienced well above normal temperatures.
According to The Guardian, France, Switzerland, Austria and Slovenia recorded their warmest ever October, and Germany, Belgium and Luxembourg experienced their joint warmest. These warm temperatures have persisted into the first week of November.
Warmer than usual temperatures in the northern hemisphere provide further evidence that the planet is heating, largely due to harmful greenhouse gas emissions from human activities.
However, this is a reality that Small Island Developing States (SIDS) in the Caribbean and the Pacific have had to contend with for some time now. For instance, of the
Category 5 hurricanes to have affected the Caribbean since 1980, nearly three-quarters have occurred since the turn of the 21st century, providing further evidence of the detrimental impact of climate change on SIDS.
At the time of writing, the 27th United Nations (UN) Climate Change Conference, also referred to as Conference of the Parties (COP) of the United Nations Framework Convention on Climate Change (UNFCCC), was in full flow. Over 100 world leaders have gathered in Egypt for this year's COP in its 27th iteration (COP27), in addition to hundreds of business leaders and dozens of heads of major international organisations.
Speaking at the opening of COP27, the head of the UN, António Guterres, warned that humanity is on a "highway to climate hell", and might I add, on the way to hell in a basket if drastic changes are not implemented.
The World Meteorological Organization's provisional State of the Global Climate in 2022 report, makes for sobering reading. For example, the report states that sea levels have risen by an average 10 millimetres since January 2020. This is happening as global temperatures continue to rise as a result of climate change, placing millions of people, the majority of them in SIDS, at major risk.
Notwithstanding the imminent climate hell, expectations regarding ambitious and credible outcomes at COP27 are low.
One of the main areas of contention at COP27 relates to climate finance. A study by McKinsey notes that getting to net zero or no carbon dioxide emissions by 2050 will cost an additional US$3.5 trillion a year. Already, leading industrialised nations and regions, such as the United States (US) and the European Union (EU) have earmarked billions of dollars for green industrialisation.
The Inflation Reduction Act, enacted by the US Congress on 16 August 2022, includes a US$369 billion package of climate investments which analysts suggest could cut US greenhouse gas emissions by 40 per cent by 2030. In Europe, €1 trillion have been set aside to finance an EU Green Deal as part of the bloc's efforts to reduce harmful emissions and build a low carbon economy.
Meanwhile, wealthy countries are yet to make good on their promise to provide US$100 billion to assist developing countries to fight climate change.
In the climate fight, we are largely where we are today because to sustain the engine of capitalism, wealthy countries and their companies chose to invest in activities which continue to be harmful to the planet. The goal of making money trumped that of preserving the balance of the planet.
Now that we are looking for a way out of the climate mess, the rich are once again seeking to gallop ahead, notwithstanding the consequences for millions in the developing world, especially in SIDS.
Climate justice calls for basic adherence to decency. If you caused a problem, then you should be chiefly responsible for fixing it. That SIDS face an existential threat is primarily because of the actions of others.
To leave the COP27 without acknowledging these basic principles, and with no serious commitment to action, would deem the conference a failure. We may be in a basket to hell, but the opportunity to reach heaven still beckons.
Joel K Richards is a Vincentian national living and working in Europe in the field of international trade and development.
Email: [email protected]