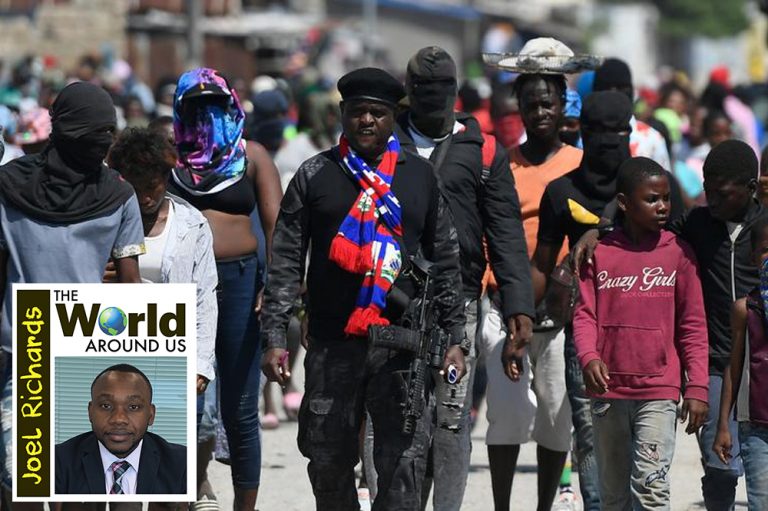 The World Around Us
November 4, 2022
Breaking the cycle in Haiti
On 21st October 2022, the United Nations Security Council (UNSC) unanimously adopted resolution 2653, which established a sanctions regime on Haiti.
These sanctions are largely targeted at criminal gangs which have been wreaking havoc in the country.
According to the Global Initiative Against Transnational Organized Crime, there are now an estimated 200 gangs operating across Haiti, around 95 of which are in the capital, Port-au-Prince, alone.
Haiti has been plagued by years of political dysfunction. Over a year ago, its President, Jovenel Moïse, was brutally assassinated.
Since then, political deadlock, social unrest and surging gang violence have persisted. The inquiry into Moïse's death has been delayed, thereby further complicating and deepening Haiti's existing political crisis.
Key institutions of state, such as the presidency, the parliament and the judicial system are non-existent.
Gangs have now filled the power vacuum in Haiti, blocking roads and access to critical infrastructure, such as fuel terminals, and raiding government offices. Largely as a result of gang activity, large swathes of the country are in a state of paralysis, with many businesses closed, prompting an economic slowdown.
Humanitarian relief efforts have also been severely impacted.
Given this state of affairs, the UN resolution has imposed a targeted arms embargo, travel ban and asset freeze upon individuals and entities designated for such measures, who are responsible for or complicit in actions that threaten the peace, security or stability of the country.
The UNSC also established a Committee consisting of all the members of the 15-member Council, to undertake, among other tasks, the monitoring of the implementation of the terms of the sanctions regime.
The Council also demanded an immediate cessation of violence, criminal activities, and human rights abuses which undermine the peace, stability and security of Haiti and the region.
These include kidnappings, sexual and gender-based violence, trafficking in persons and the smuggling of migrants, and homicides, extrajudicial killings and recruitment of children by armed groups and criminal networks.
The sanctions regime imposed by the UNSC and the pronouncements by the Council are certainly well intentioned. However, not only might they lack the desired effect, but they perhaps also fall way short of what Haiti actually needs.
After Haiti fought for its independence from France, the latter only recognized an independent Haiti after Haiti agreed to pay reparations which, according to the Council on Foreign Relations, would be worth 22 billion United States Dollars ($US) today.
Haiti then spent the 120 years post-independence paying reparations to France, which accounted for as much as 80 percent of Haiti's revenues.
For starters, the international community needs to insist on reverse reparations for Haiti and pressure France to return all funds received from Haiti. These funds can then be used to pay off Haiti's current debts amounting to US$3.7 billion, improve the country's infrastructure, fund social programmes, rebuild agriculture and industry and fund the critical institutions of state.
Unfortunately, it is unlikely that France would ever agree to the suggested course of action. Given Haiti's negative experiences with foreign intervention over the years, its people are rightly concerned about intervention by outside forces, whether or not under the ambit of the United Nations.
However, to achieve meaningful progress on all fronts, especially with respect to the political, security and social issues, outside support is likely required to reinforce Haiti's security apparatus, without which not much can be done. Therefore, an international stability force, which should ideally have strong participation from other Caribbean nations, should be established.
Speaking of the Caribbean, any solution to the challenges facing Haiti should not exclude Haitians themselves as well as the wider Caribbean. Particularly on the political side, to usher in political dialogue and eventually have free and fair elections, consideration can also be given to having an eminent person, such as a P.J. Patterson, former Prime Minister of Jamaica, serving as a special envoy to facilitate dialogue among the relevant stakeholders in Haiti.
The cycle of debt, poverty and underdevelopment needs to be broken in Haiti. This requires the involvement of the international community, the Caribbean and definitely, the Haitian people.
Joel K Richards is a Vincentian national living and working in Europe in the field of international trade and development.
Email: joelkmrichards@gmail.com