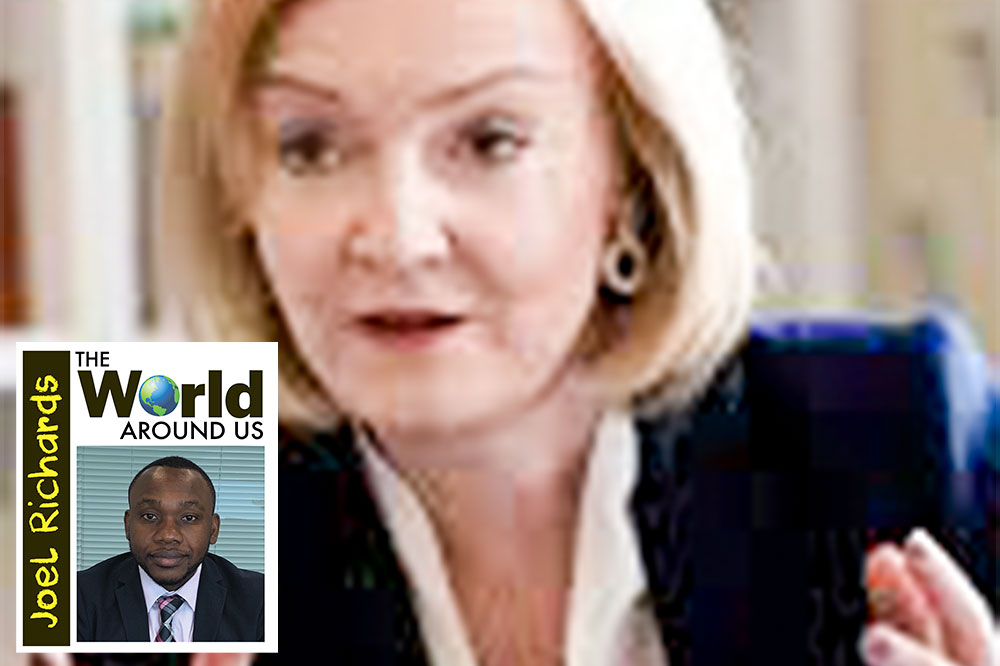 The World Around Us
September 30, 2022
In Liz There is No Trust
Mary Elizabeth (Liz) Truss assumed the office of Prime Minister of the United Kingdom (UK) on 6th September 2022. Truss has taken over the leadership of her country during a hugely turbulent economic period for the UK and the majority of the world.
Among Truss' main economic priorities was tackling the issues of taxation and cost of living. Addressing these, she contended, could jump start a stalled economy and help the British people with their soaring energy bills. In this regard, Truss promised to cancel a scheduled increase in corporation tax and give consideration to slashing the Value Added Tax (VAT) by 5 per cent or cutting income tax to help households.
On 23rd September, Truss' team unveiled its plan to rescue the British economy. Her Fnance Minister, or Chancellor, Kwasi Kwarteng, presented a budget which made it clear that Truss wants to proceed with tax cuts in 2023 which will be offset by higher government borrowing.
Kwarteng indicated that the government intends to cut personal income taxes and cancel plans to raise business taxes in the first quarter of next year. He also pledged to progress plans to subsidise the energy bills for millions of households and businesses.
However, investors quickly became disenchanted with Truss' economic plan and markets subsequently revolted – a sign of very little trust in Truss' economic agenda.
Investors are mainly concerned that a significant increase in government borrowing at a time when interest rates are rising quickly could be detrimental to the economy.
Investors fear that extra borrowing by the UK government will not be recouped through higher growth and improved tax receipts, especially in a context where the country's immediate economic prospects are grim. Therefore, in their minds, "Trussonomics" has the potential to leave the UK with a debt hangover over the long term in a depressed growth environment.
Shortly after Kwarteng's budget, the British Pound hit a 37-year low against the United States Dollar (USD). Investors also sold off their UK government bonds, and UK stocks fell to their lowest level since March of this year.
These economic headwinds in the UK will not be confined to that space for a number of reasons. While it has fallen from the heydays when the UK was an outright leader in the global economy, it remains an important economy nonetheless and ranks as the world's 5th largest economy. London also maintains its role as a leading global financial centre which means that the UK continues to occupy a place of prominence in the global financial architecture.
Therefore, shocks to the UK economy will inevitably cause some contagion further afield, especially for countries that rely heavily on the UK for financial services, trade, tourism and remittances.
For companies exporting to the UK, there might be some exchange rate losses due to the weaker Pound. In terms of UK tourists travelling abroad, this might become more expensive for them since they will need more money to spend on travel, hotels, food and entertainment because of the weaker Pound. This could dampen their appetite to travel which is certainly not good news for tourism-dependent markets still trying to recover from the economic toll of the COVID-19 pandemic.
In terms of remittances, these figures may fall since it will become more expensive for persons in the UK diaspora to send funds to relatives and friends back home.
Essentially, it will require more Pounds for the same amount of local currency compared to up to just over a week ago.
Nonetheless, as with every crisis, opportunities persist. As the Pound weakens, importing from the UK also becomes cheaper. Furthermore, individuals and companies with sufficiently deep pockets can buy assets in the UK at a discounted rate on account of a weaker Pound.
Finally, Truss seems to have a long way to go to shore up trust in her economic plan for the UK. However, developments in the UK also reflect the current fragile and uncertain state of the world and the predicament facing many economies to balance growth, investments in social programmes and maintaining confidence in the ability of governments to deliver.
Joel K Richards is a Vincentian national living and working in Europe in the field of international trade and development.
Email: [email protected]