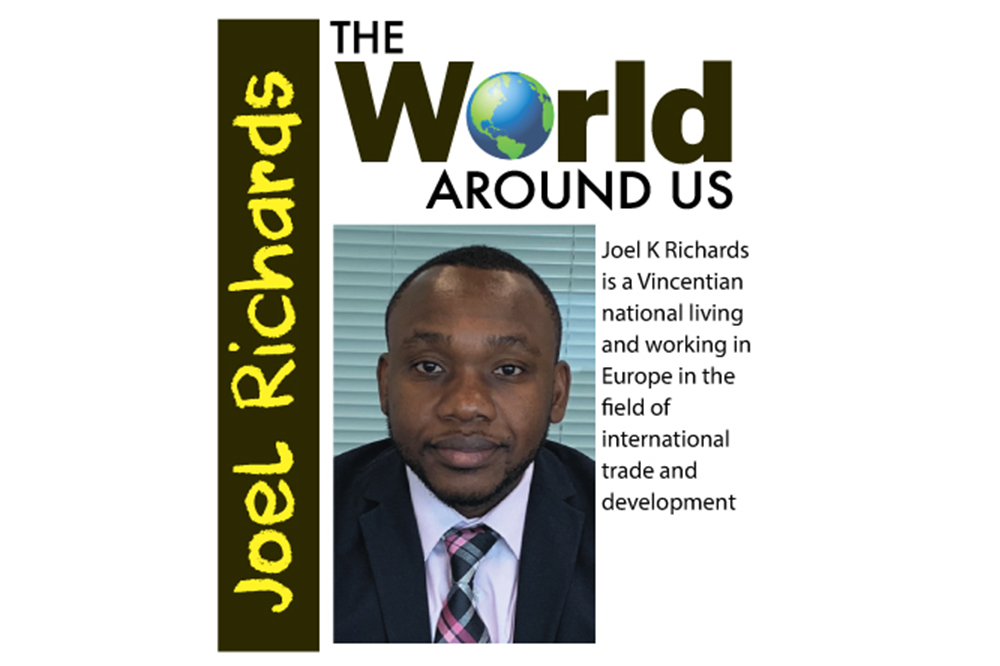 The World Around Us
March 9, 2021
Gender equality: The unfinished business of our time
I WRITE today's article in commemoration of International Women's Day which was celebrated on March 8. This year, International Women's Day was celebrated under the theme 'Women in leadership: Achieving an equal future in a COVID-19 world.' Twenty-five years ago, close to 50,000 people gathered in Beijing, China for the Fourth World Conference on Women from which emerged the Beijing Declaration and Platform for Action. The Platform for Action imagined gender equality in all areas of life, including with respect to participation in decision- making.
Without a doubt, women have made some strides regarding their participation in decision-making, including at the highest political and business levels. Currently, at least 23 countries have a woman head of state or government. German Chancellor, Angela Merkel is perhaps the single most powerful political figure in the European Union and one of the world's most powerful leaders. In December 2019, Finland elected the world's youngest Prime Minister, Sanna Marin, at just 34 years old. Jacinda Ardern, Prime Minister of New Zealand, has also emerged as one of New Zealand's youngest, most intelligent and transformational leaders in modern times. The United States also recently achieved a major first by electing Kamala Harris as its first female Vice President.
Closer to home, Barbados is being well led by the erudite Honourable (Hon.) Mia Mottley. Right at home, there is also great pride in the fact that the House of Assembly is served by a female Speaker and Deputy Speaker, Hon.
Rochelle Forde and Hon. Ashelle Morgan, respectively. A young, intelligent and charismatic woman in the person of Hon. Keisal Peters also occupies the role of Minister of State in the Ministry of Foreign Affairs.
Notwithstanding the progress made by women in the area of leadership around the world, the fact is that significant work remains. For instance, UN Women notes that there are still 119 countries which have never had a female leader. Moreover, only 21 percent of government ministers around the world are women and just 14 countries have managed to achieve gender balance in their cabinets. According to UN Women, at the current rate, it will take an additional 130 years to achieve gender equality in the highest positions of power. Meanwhile, in business, the WEF's Global Gender Gap Report 2020 revealed that women are significantly underrepresented in companies' board of directors.
The fight against gender inequality should be everyone's fight, both men and women. It also requires a whole of society approach, meaning government, civil society and individuals must work in concert to ensure that gender equality goes beyond mere lip service. Particularly where leadership is concerned, both in government and the private sector, countries around the world may need to give consideration to affirmative action for women to ensure that there is better and eventually equal representation of women at the highest levels.
Balanced political participation and power-sharing between women and men in decision-making is the internationally agreed target set in the Beijing Declaration and Platform for Action. However, the goal of increasing women's participation in leadership is not merely tokenism. On the contrary, as cited by UN Women, there is evidence to suggest that women's leadership in political decision-making processes improves them. Women can certainly play an important role in mainstreaming issues which are often overlooked, such as matters of social and economic justice, including gender-based violence, children's rights and many others. Interestingly, an analysis published by the Centre for Economic Policy Research and the World Economic Forum (WEF) suggested that female-led countries have managed the novel coronavirus (COVID-19) pandemic better, a clear tip of the hat to women in leadership.
Finally, gender equality remains the unfinished business of our time. No society can function optimally if women continue to be underrepresented in important corridors of decision-making. Hopefully, we will not have to wait another 100-plus years to realise women's equal participation and leadership in political and public life.