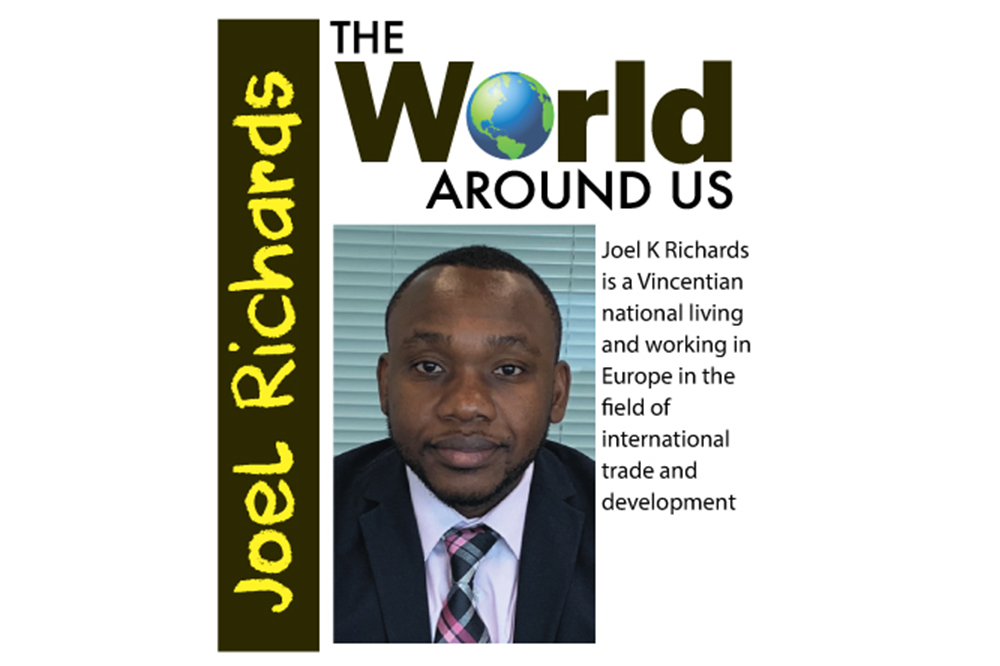 The World Around Us
October 27, 2020
The Future of Work
We are living in the age of disruption and many things are no longer what they used to be. Who would have thought that a firm can become the largest taxi company in the world without owning an actual taxi? Well, with the advent of the ride-sharing company Uber, this is now the case. Moreover, electronic commerce (e-commerce) is fast replacing storefront shopping; artificial intelligence (AI) and robotics are performing certain functions long done by actual humans; and the internet of things (IoT) is allowing once seemingly mundane objects such as refrigerators, microwaves and many other devices to become digitally intelligent. In this disruptive world, do we have the skills to thrive?
What will work look like as the 21st Century progresses?
The World Economic Forum (WEF) recently released "The Future of Jobs Report 2020". This report made for exciting and sobering reading. It made for exciting reading because it foretold a future teeming with human ingenuity. However, on the other hand, it was sobering because it drove home a recognition that the labour force in many countries is ill-prepared for what lies ahead.
The WEF Report predicts that the pace of technology adoption is expected to remain undiminished and may even accelerate in some areas. In this regard, the adoption of cloud computing, big data and e-commerce continue to be high priorities for many of the global business leaders surveyed. Furthermore, global business leaders have also registered an increased interest in areas such as encryption, non-humanoid robots and artificial intelligence.
Second, the WEF Report notes that automation is creating a disruption scenario for workers meaning that technological adoption by companies will transform tasks, jobs and skills by 2025. For example, 43% of the businesses surveyed indicated that they were set to decrease their workforce due to technology integration; and 34% planned to expand their workforce due to technology integration. By 2025, the Report indicates that time spent on current tasks at work by humans and machines will be equal.
Third, according to the WEF Report, skills gaps will continue to be high as in-demand skills across jobs change in the next five years. In this vein, the top skills and skill groups which the employers who were surveyed see as rising in prominence leading up to 2025 include critical thinking and analysis, problem-solving, and skills in self-management such as active learning, resilience, stress tolerance and flexibility.
Fourth, without proactive efforts to minimize the impact of disruption on the workforce, the WEF predicts that inequality is likely to be exacerbated by the dual impact of technology and the novel coronavirus (COVID-19) pandemic recession. Jobs occupied by lower wage workers, women and younger workers are expected to be particularly hard-hit.
It is without doubt that to successfully participate in the global economy of the present and the future, many countries will need to re-skill. It is also clear that operating in the 21st Century on 20th Century knowledge and skills will be insufficient. On one hand, meeting this challenge will require re-skilling of the existing workforce.
On the other hand, it will also require an overhaul of the approach to education in many countries to ensure that the workers, innovators and employers of the future are well equipped.
However, the task of re-skilling and equipping people to meet the demands of the 21st century world is one for both the private sector and government. The private sector should see it as part of its corporate social responsibility to invest in its human capital which has broader society-enhancing dividends. Both the private and public sectors should also work more closely on education reform to ensure that the economy gets the skills it needs and that the government trains the people that will be absorbed by the economy.
Finally, the WEF Report recognises the critical role of the public sector in creating incentives for investments in the markets and jobs of tomorrow; providing stronger safety nets for displaced workers; and in decisively tackling improvements to education and training systems. These are all huge and potentially costly endeavours, but they are necessary for any country that has an interest in building a robust, agile and competitive society.