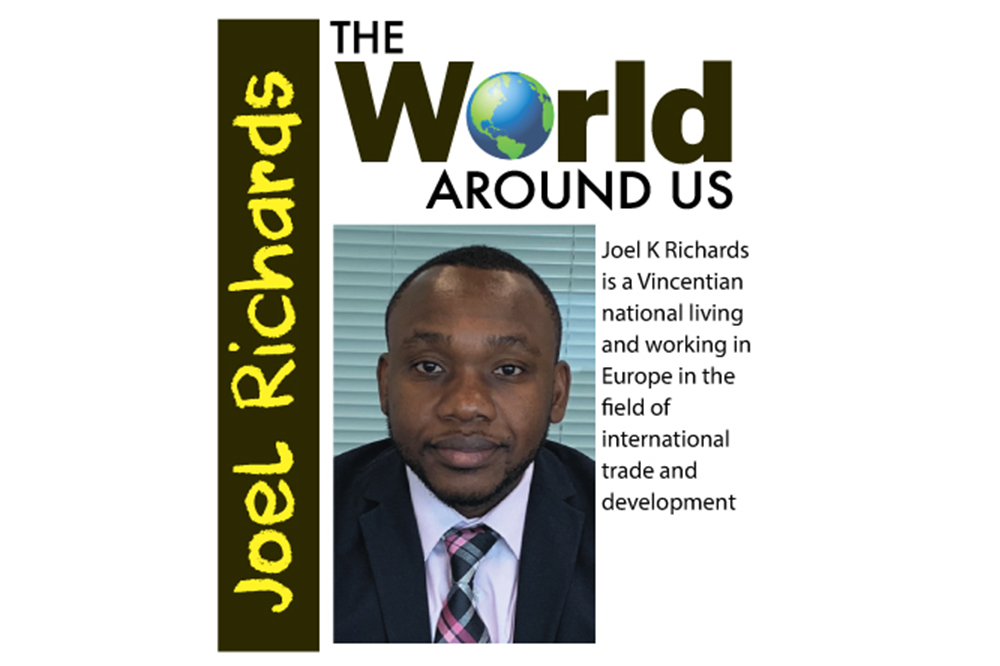 The World Around Us
March 10, 2020
COVID-19 and Health Governance
WITHOUT A DOUBT, the outbreak of the novel coronavirus (COVID-19) is a global public health crisis of grave concern. At the time of writing, the virus had already infected over 100,000 people in over 90 countries, including several confirmed cases in a few Caribbean territories.
Beyond the obvious public health element, as I had addressed in a previous article, the virus is also impacting economies around the world, whether through supply chain disruptions, stock market volatility, travel and tourism or increased costs to governments in handling the crisis. COVID-19 is also posing a test to health governance, both at the national and international levels, which is the focus of this article.
To date, the response to the virus has varied from country-to-country. In some countries, governments are finding it extremely difficult to frame an appropriate response to the COVID-19 challenge. Writing in the New York Times, Michael Shear, Sheri Fink and Noah Weiland noted that the Trump administration's attempts to forestall an outbreak of the virus was marked by a raging internal debate about how far to go in telling Americans the truth as it sought to avoid spooking financial markets and inciting panic. However, under the extraordinary circumstances that are brought on by an epidemic, clear and honest communication with the public should be a premium.
Apart from the issue of communication, some countries are also struggling with how to prepare for an actual outbreak of COVID-19, and if there is an outbreak, how to respond. The World Health Organisation (WHO) has warned that its "biggest worry" is to make sure that the disease does not spread in countries with weaker health systems.
The 2019 Global Health Security Index (GHS) the first comprehensive assessment of health security capabilities in 195 countries, found that many countries failed to demonstrate that they had the health security capacities and capabilities that are needed to prevent, detect, and respond to significant infectious disease outbreaks.
Overall, the GHS Index found severe weaknesses in country abilities to prevent, detect, and respond to health emergencies; severe gaps in health systems; vulnerabilities to political, socioeconomic, and environmental risks that can confound outbreak preparedness and response; and a lack of adherence to international norms.
In short, the GHS Index found that no country was fully prepared for epidemics or pandemics. Using a ranking on the basis of Most Prepared, More Prepared and Least Prepared, no Caribbean country is ranked as Most Prepared. The Dominican Republic, Trinidad and Tobago, Suriname and St.Lucia are ranked as More Prepared. Meanwhile, all other Caribbean countries covered by the GHS Index are considered to be Least Prepared.
At the global level, the WHO which is a specialised United Nations (UN) agency working worldwide to promote health, has been trying its utmost to provide advice to countries, coordinate global responses and help countries prepare for the COVID-19 outbreak. However, the WHO's Health Emergencies Programme, the division leading the global response to the COVID-19 outbreak, has been found by auditors to be chronically underfunded to the extent that it poses a "severe" and "unacceptable" level of hazard to the organisation.
In Singapore, which is considered to have a topnotch health care system, the response to COVID-19 has been attracting rave reviews. Writing for Bloomberg, Philip Heijmans cites the country's historically "very strong epidemiological surveillance and contact-tracing capacity"; ready-made government quarantine facilities; and expansive government orders. Of course, Singapore is a one-party state and unlike in a typical democracy, it is in a better position to suspend individual liberties for the good of the wider society.
Finally, the world has to awaken to the reality that pathogens can emerge unexpectedly, and when outbreaks occur in countries that are unprepared, they can wreak havoc.
This suggests that countries should always be in a state of readiness. However, to be in a constant state of readiness requires having a sufficient and robust health care system year-round. COVID-19 is also a wake-up call to the international community that the world needs more and not less cooperation and that global intergovernmental bodies such as the WHO which have been created to coordinate international responses to global problems, need more and not less funding.