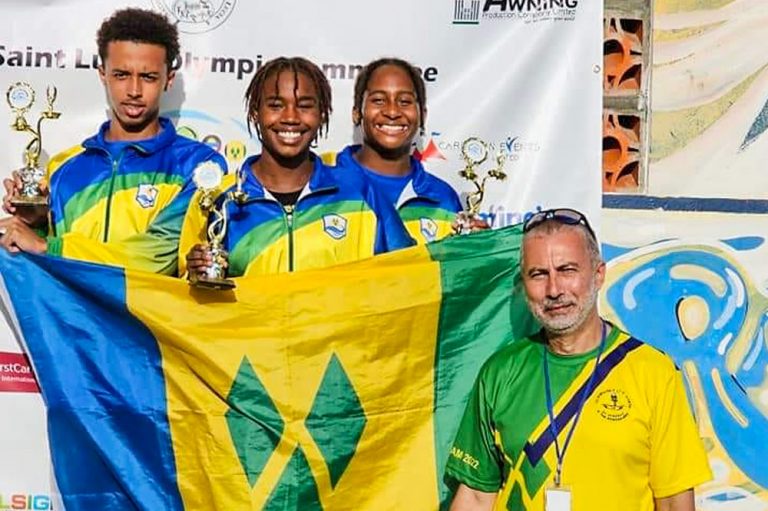 Vincentian swimmers delight at OECS Championships
An overall third place, a total of 92 individual medals, 11 relay medals, five OECS records and nine national records formed part of the St Vincent and the Grenadines (SVG) team's takings at the 31st staging of the OECS Swim Championships at the Rodney Heights Aquatic Centre, St Lucia, November 10 to 12, 2023.
Altogether, it was the best performance by SVG in the history of the championships.
SVG thus won three of the age group champions, as Matthew Ballah won the Boys 13 to 14; Tayeah St Hilaire, the Girls 11 to 12 and Kennice Greene, the Girls 15 to 17.
Ballah tallied 87 points, accumulated from his seven gold medals, two silver and a solitary bronze.
Meanwhile, St Hilarie won six gold medals and three silver, to post 84 points. In addition, St Hilaire broke the OECS age group 100 m Butterfly record.
Likewise, Greene broke the 50 m and 100 m Butterfly, along with the 50 m Freestyle.
Greene earned five gold medals, one silver and two bronze, as she scored 69 individual points.
And, Zariel Nelson broke the OECS 50 m Freestyle for Girls 13 to 14.
Staying with the records, Greene reset five SVG records, while Belle Adams, Caghry Williams, Kione De Shong and St Hilaire accounted for one new national record each.
To show the Vincentians' all-round performance, 22 of the 26 members of the team were able to medal.
Team SVG finished third on 1239.5 points. The Vincentian female swimmers accounted for 634.5 points, to place second, while the males' 561 points, put them second.
Again, the Vincentians set new standards, beating the 1116 points accumulated in 2019.
Antigua & Barbuda and Grenada, who both tallied 1347.5 points, were joint winners of the championships.
St Lucia was fourth on 1086.5 points, St Kitts and Nevis – 144 points and St Maarten – 1 point.
St Vincent and the Grenadines was represented by 26 swimmers (14 males and 12 females). At the championships, SVG had the youngest participant- five-year-old, Zane Dabriel.
In addition, this country was the first to have a para- swimmer- Kentreal Kydd, compete at the championships.
Apart from the swimmers, the official Vincentian contingent included coaches – Kyle Dougan and
Tamarah St Hilaire, along with Team Manager- Brian George.
Funding for St Vincent and the Grenadines' participation at the OECS Championships was made possible by the SVG Olympic Committee and the National Lotteries Authority.
St Vincent and the Grenadines will host the 32nd edition set for November, 2024.