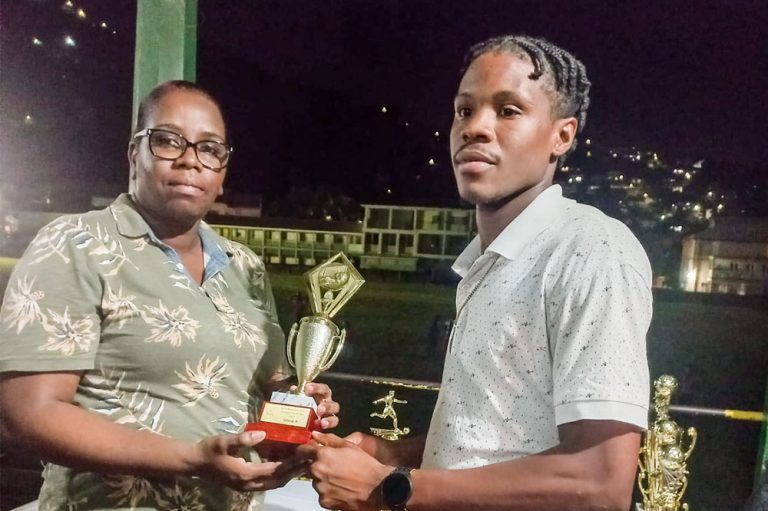 Breakaway Masters Football Competition concludes
Ministry of Education and Sports combined beat RSVG Police 3-2 on Saturday, October 21, at the Grammar School Playing Field, to win the Firms Division of the Carib Breakaway Masters Organisation's Football Competition.
A brace from Gareth Leigertwood and a Rohan Thomas Jr. penalty accounted for the Ministry of Education and Sports Combined goals. Curtland Jack and Kevin Abraham netted for RSVG Police.
Ministry of Education and Sports Combined thus joined System Three – Under- 17, Adare – Under- 19 and Je Belle- females, as the League champions.
Winning the Knock Out titles were Je Belle – Females, System Three- Under-19, Aecon Fisherfolk-
Firms and System Three – Under-17.
The Best Goal Keeper in the Firms Division was Zati Marshall, Under-17 -Emran Gill, Under-19- Garwin Davis and Females- Angene Roache.
Meiya Wilson was adjudged Player of the Female Division, with Korey Durrant the recipient among the Under – 19; Moralie Solomon – Firms Division and J' Quan Glasgow – Under-17.
Taking the Best Striker award in the Under-17 Division was Raysean Barker; Ralin Benjamin- Under-19, Nasheeka Prescott- Female Division and there was a tie in the Firms Division, between Jante James and Demeris Daniel.
A special presentation was made to Kenville Frederick, the President of the Breakaway Masters Organisation.
Thirty- six teams participated in the 2023 edition of the invitational competition, which was inaugurated in 2011.