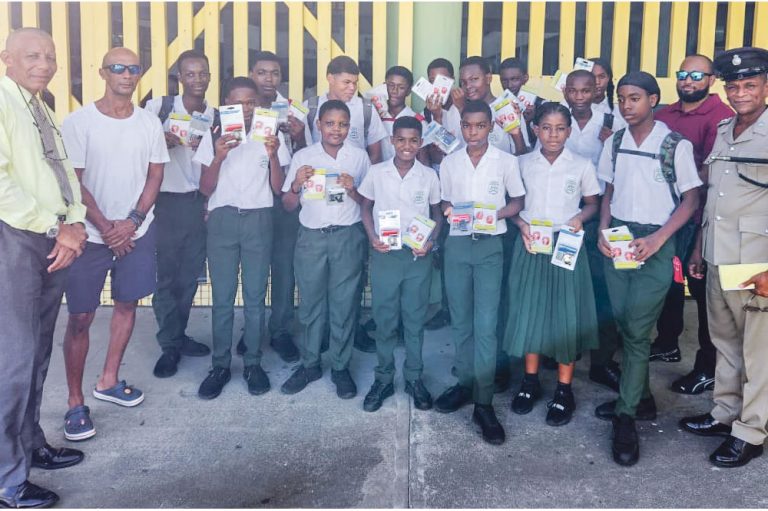 GSS students get Cycling safety gear
The St Vincent and the Grenadines Cycling Union (SVGCU) continues to ensure that students who are engaged in Cycling, mainly for recreational purposes, are provided with implements to enhance their safety, especially when on the road.
As such, the SVGCU on Monday, October 16, presented 15 students from the Georgetown Secondary School (GSS) with front and rear lights.
On hand to make the presentation was President of the SVGCU Shimano Bailey, along with his Vice President Peter Durrant.
Assistant Superintendent of Police Junior Nero, who witnessed the handing over of the lights, gave the recipients some timely advice. Nero, while urging the students to have fun while riding, stressed the need for them to make safety high priority.
He therefore implored them to "wear your helmets… obey the traffic laws… check your bikes before you ride," Nero emphasised to the students.
Nero further requested of the students that they be cognizant of their surroundings and look out for other road users.
Meanwhile, President Bailey reiterated that the Georgetown community is one that has a large number of cyclists, hence the reason that they are among the target group for the donation.
Bailey disclosed that though the assistance of the St Vincent and the Grenadines Olympic Committee, more safety equipment will be distributed throughout the country in the upcoming months.
The GSS thus joined the Barrouallie Secondary, as schools that have been presented with safety gear.
The Barrouallie Secondary students accessed a donation of helmets.