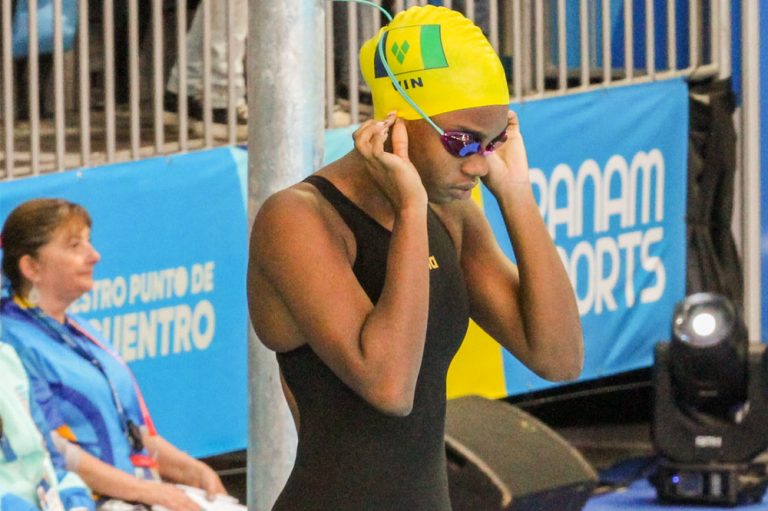 Greene achieves Freestyle Personal Best
Kennice Greene ended her participation at the XIX Pan American Games last Tuesday, October, 24, 2023, in Santiago, Chile, with a personal best in the 50 m Freestyle.
The 16-year-old Greene clocked 27.71 s, eclipsing her previous time of 27.91 s, achieved last year at the 35th Carifta Swimming Championships, held in Barbados.
Apart from the 50 m Freestyle, Greene also contested the 100 m Freestyle and the 100 m Butterfly, on Monday and Sunday, respectively.
In the 100 m Freestyle, she timed 1:02.41, slower than her previous best of 1:02.03 and her clocking in the 100 m Butterfly was 1:09.03. Greene's PB in the Butterfly event is 1:07.38.
The other Vincentian competitor in the Swimming discipline was Nikolas Sylvester, who contested the Men's 100 m Breaststroke and the 50 m Freestyle.
In the 100 m Breaststroke, Sylvester's time was 1:13.11 and the 50 m Freestyle- 26.03 s.
Greene and Sylvester were accompanied by Coach- Kyle Dougan.
Next for St Vincent and the Grenadines is Athletics, as Darren Morgan-Jeffers is the lone representative in that discipline. Morgan Jeffers will run in 100 m set for Monday, October 30, at the National Stadium.
Meanwhile, Scarlett Hadley is poised to make history as the first Vincentian to compete at Sailing at the Games. Hadley takes to the waters on November 4.
St Vincent and the Grenadines is among 40 countries that are participating in the world third largest multi- sport event.
The Pan Am Games opened October 20 and concludes November 5.