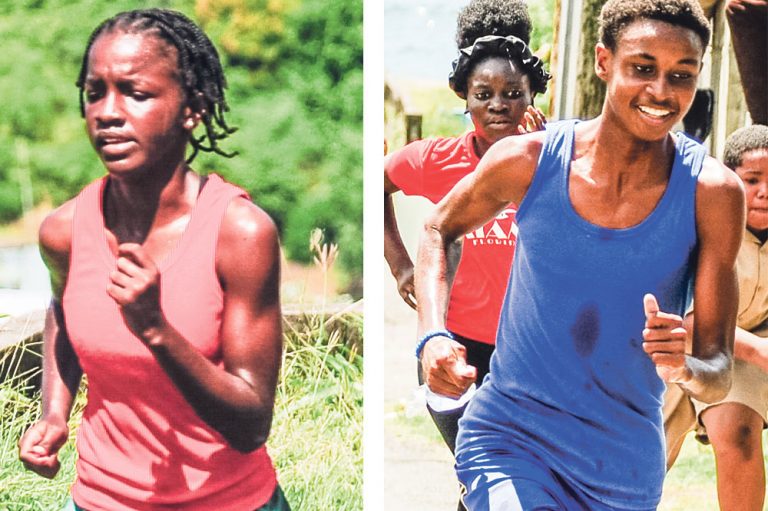 Branch and Eustace win road relay titles at JP Eustace
Branch (red) House for the females, and Eustace (blue) House for the boys sent strong messages to their competitors with victories at the 2023 JP Eustace Secondary School Road Relay which was run last Friday.
Branch House sent a strong message to the other Houses at the JP Eustace Secondary school with an emphatic victory over the six-leg road relay, held on Friday October 13, from the start next to the Buccament Bay Polyclinic, to the finish at the school grounds.
Forced to chase Murray (green) House and Hercules (yellow) House over the first two legs of the six-leg race, it was over the course of the fifth leg that Branch House began to threaten race leaders Murray House.
They finally took the lead at the Campden Park bridge when Kyla James powered her way past the Murray House runner, stretching her advantage to the sixth and final exchange next to the Lowman's cemetery.
There Kalice Bobb took the baton and slowly increased the distance between herself and the chasers. As the easiest part of the final leg beckoned, there was no challenger, and with the road to Edinboro posing a bit of a challenge, the lead was sufficient, and she crossed the finish line at the school; the winning time being 63 minutes 30.87 seconds.
Murray House came in second with a time of 68 minutes 10.43 seconds, third was Hercules House in a time of 67 minutes 11.81 seconds, and Eustace House fourth in 76 minutes 35.61 seconds.
Meanwhile in the boys division, Romel Dickson of Eustace House crossed the line in 48 minutes 20.17 seconds. Coming in second was Branch House in 49 minutes 24.02 seconds, Murray House placed third in 50 minutes 20.25 seconds, and Hercules Houses was fourth in 51 minutes 28.72 seconds.