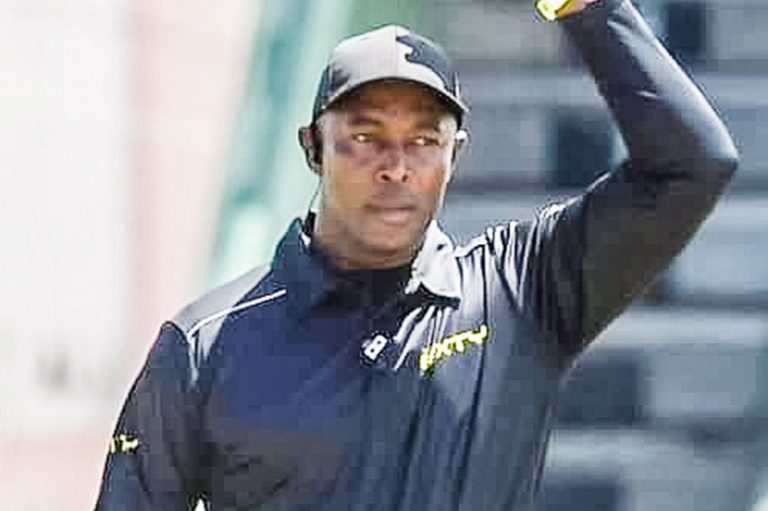 Butler to be next international West Indian cricket umpire
If all goes according to plan, come 2024, Vincentian umpire and former Windward Islands and West Indies fast bowler Deighton Butler will be officiating as a member of the international elite cricket umpires panel. This is according to a source close to Cricket West Indies (CWI) who requested anonymity when contacted on that matter.
He told SEARCHLIGHT "based on the consistent high marks that Mr Butler has attained each year from umpiring at the CPL, it is only fair that the West Indies move to have him as a member of the international elite cricket umpires panel."
The source further added: "Based on his most recent performances in the 2023 CPL, and the favourable reviews by team captains, Mr Butler is well placed to become the next West Indian international umpire."
According to Caribbean Premier League preliminary umpiring statistics at the end of the group stage games before the play-offs, Butler made 18 decisions with one error, an accuracy of 94.4 per cent, the highest of all the umpires. He signalled a combined total of 40 wides, leg-byes, byes, and no-balls with zero errors, an accuracy rating of 100 per cent.
In total, at the end of the preliminary round matches, Deighton Butler made 58 umpiring decisions with one error, an accuracy rating of 98.3 per cent; again the highest rating of all the umpires who officiated in the 2023 Caribbean Premier League.
When contacted in Trinidad where he is officiating in the Cricket West Indies 2023 Regional Super50 championships which started on Tuesday October 17, Butler told SEARCHLIGHT: "This year is my fourth year at CPL, and the fourth consecutive year that I have been appointed to be an on-field umpire for the final.
"For me, that is an indication of consistency over the years, and I have been working really hard leading up to the tournament, and throughout the tournament putting in the work to make sure that I maintain that high level of officiating that is expected at these levels."
From a national standpoint, Butler is proud that he "has been flying the St Vincent and the Grenadines flag high" and wants to make sure "I do that at every opportunity that I get."
He explained that he has always wanted to be the best that he can be from playing all the way back … My goal was to be the best that I can be and to represent the West Indies."
He admitted that there were many stumbling blocks he had to overcome all throughout his career, and being selected to play for the West Indies was quite a milestone. He was selected to play against Sri Lanka on August 2, 2005 at Dambulla, Sri Lanka, and last played for the West Indies on February 16, 2006 against New Zealand at Auckland, New Zealand.
According to cricinfo, "Deighton Butler is a left-arm fast medium bowler who relies on swing to snare his victims. …"
"I have always wanted to stay in the game – whether it be coaching, umpiring, and I continued in terms of coaching and I will continue to coach for I remember how I grew up not having anyone to work with me in terms of coaching, so once I am available is I do not want thing to be happening to our young cricketers."
He plans to do his level three coaching course at some stage in the not too distant future adding "I have always wanted to umpire because back in the time when I played, I always wanted to be an umpire for I always believed that I can do justice in being a match official."
He is encouraging past players to get into umpiring or coaching, or even both, for the experiences as a past player would give that past players certain skills as an umpire over one who has not played the game, and being able to relate to certain things these umpires who never played the game would be able to relate to.
"You have certain assets that you could call upon as a past player, so I would encourage players who are in the game to get into umpiring as they come to the end of their playing career. I will try to be an example to the others to follow by being the best that I can be."
According to Butler, he was very excited to have done a fourth finals and consecutively at that, for when "you come out to do these tournaments you are pretty much aware that you are representing your country and the people there, and it is important that you give it your all and that you represent well by giving a good account of yourself."