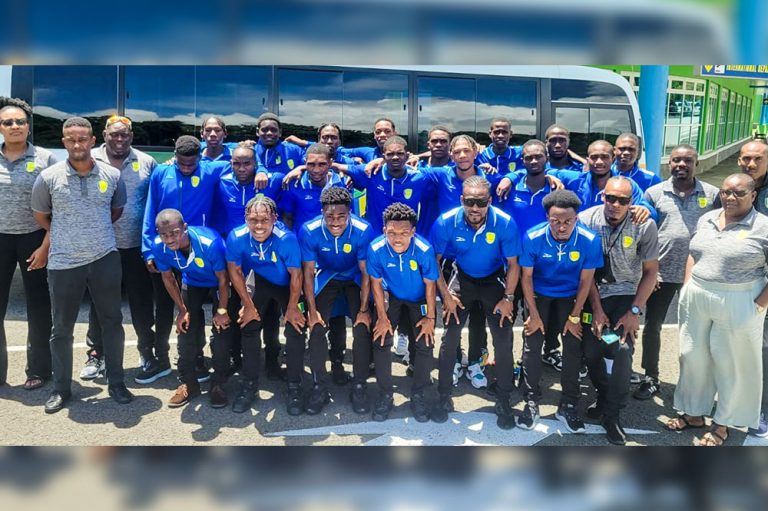 Vincy Heat play Belize today in Concacaf Nations League Qualifiers
Vincy Heat, the St Vincent and the Grenadines senior men's team will play Belize in Group C of the Concacaf Nations League (CNL) Qualifiers, set for today, September 8, 2023.
The match kicks off at 4 pm at the Pierre Aliker Stadium in Martinique as both the St Vincent and the Grenadines Football Federation (SVGFF) and the Football Federation of Belize (FFB) have agreed to meet on a neutral venue.
Carrying the hopes and aspirations of Vincentians are a 22-person team made up of Goalkeepers Josh Stowe and Garwin Davis, along with defenders Joel Jack, Jequan Adams, Jahvin Sutherland, Jamol Yorke, Nigel Small, Gavin Browne and Najima Burgin.
The midfielders who carry the responsibilities are Sherwyn Alexander, Addeen Charles, Kennijah Joseph, Diel Spring (Captain), Terrason Joseph, Terris Joseph and Gidson Francis.
The strikers are Garret Leigertwood, Marlon Simmons, Jahva Audain, Cornelius Stewart and Rondell Thomas.
Speaking ahead of the team's departure, Manager Dr Ronen Francis was optimistic that a result is forthcoming in the Vincentians' favour.
"They (the players) are in very good condition. In terms of their physicality and tactically they have grown, as compared to the last sojourn… I expect them to come back with three points and play some good Football, some exciting Football, pacey, and what we may call the Vincentian way, with a little swagger," Francis assessed.
Following today's match in Martinique, St Vincent and the Grenadines faces Bermuda from 3:30 pm next Tuesday, September 12, here at the Arnos Vale Playing Field. French Guiana is the other team in the group.
The teams will each meet on a home and away basis. The next match dates are October 13 and 17, and November 17 and 21.
Three other groups make up League B. In Group A are Guadeloupe, St Kitts and Nevis, St Lucia and St Maarten ,while the Dominican Republic, Nicaragua, Montserrat and Barbados constitute Group B.
Group D comprises Guyana, Antigua and Barbuda, Puerto Rico and the Bahamas.
The winner of the each of the four groups in League B will be promoted to League A, while the last places get demoted to League C.
Meanwhile, the bottom two teams from the six- team groups in League A will be relegated to League B.