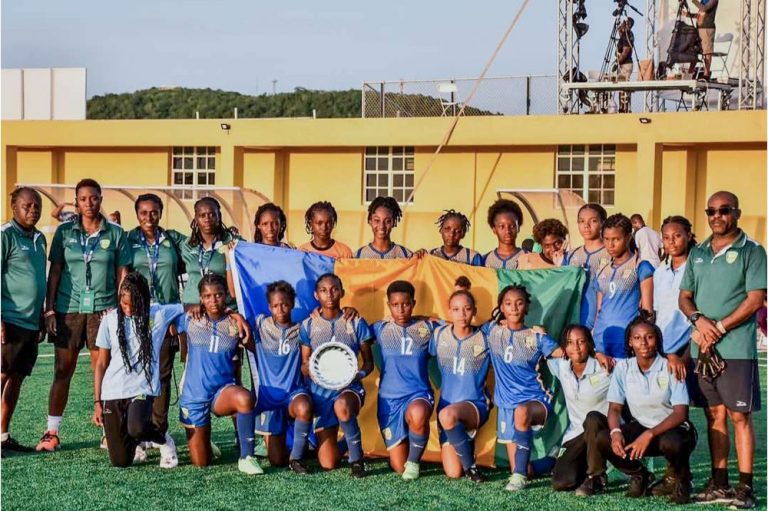 Team SVG female footballers in 2nd place within Group A of CFU U-14 Challenge Series
The National U-14 Girls football team showcased their skills at the CFU U-14 Challenge Series held in Antigua from August 18 -27.
Placed in Tier 2 Group A, our girls faced off against formidable opponents including Anguilla, Dominica, US Virgin Islands, and Grenada.
Kicking off the tournament on August 18, the team secured a triumphant start by defeating the US Virgin Islands with a score of 3-0. Stephanie Hunte's hat-trick highlighted the game's excitement.
The following day, the team continued their winning streak with a 2-0 victory against Dominica, courtesy of goals by Ammunique Edwards.
Maintaining their momentum, the team faced Grenada, securing another victory with a close 1-0 scoreline, thanks to a goal by Raydahlia Bute.
After a two-day break, the final group match against Anguilla took place on August 23. Despite a valiant effort, the match ended with a 2-0 loss, leading Team SVG to settle for 2nd place within Group A.
According to Head Coach Keith Ollivierre, "This tournament was an invaluable assessment of our team's capabilities and a stepping stone toward our goal of playing competitive football. We're setting a strong path for our future."
The SVGFF commends the girls for their exceptional performance, as the nation's youth development programs continue to evolve.