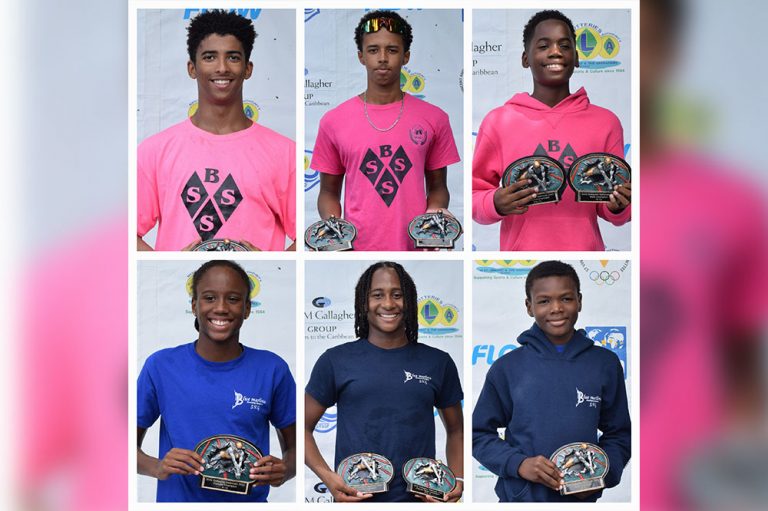 Swimmers come up trumps at National Championships
National records, age group records and personal bests were just some of the highlights of the four-day SVG Gallagher National Swimming Championships staged at the Shrewsbury Aquatic Centre, from August 24 to 27.
Among the standout performers was Alex Joachim of Black Sand Swim Squad (BSSS). Competing in the Male 15 & Over category, Joachim claimed 12 gold medals in 12 races. Included among his wins were seven national records and 10 personal bests.
Like Joachim, Tyler Robinson, also of BSSS collected 12 gold medals, swimming in the Male 11-12.
All his times were personal bests.
Another BSSS swimmer – Matthew Ballah was as good, as he dominated the Male 13 to 14, scalping 11 golds and one bronze in his 12 events. To boot, Ballah reset three age group records and one National Open record to go along with nine personal best times.
Joining the BSSS trio were Belle Adams, Tayeah St Hilaire and Caghry Williams, all of the Blue Marlins Swim Club.
Adams, swimming in the Female 9-10, earned 12 gold medals and registered 10 personal best times.
Meanwhile, St Hillaire in the Female 11- 12, secured 10 gold medals, 1 silver and 1 bronze. In the process, she had two age groups to her name, as well as 11 personal bests.
And, Williams in the Male 9-10, had eight golds and four silvers in his 12 events, all of which were personal bests.
The six stand outs were their respective age group champions, whilst Ballah was the 13 and Over Sprint Challenge Champion, as were St Hilaire and Robinson in the age group, nine to 12.
The other age group winners were Evie Twum Barimah of Grenfins who was the Female 8 and Under winner; Mateo Thomas of Solid Base also of Grenada, the Male 8 and Under, with Rhoyah Jack of Blue Marlins winning the Female 13 to 14 and BSSS's Abigail De Shong, the 15 and Over champion.
Barimah and Thomas took their age groups' Sprint Challenge title and Kennice Greene of BSSS, the 13 and Over Sprint Challenge champion.
There was also a special presentation made to amputee Kentreal Kydd of BSSS, who competed at the championships.
Kydd is prepping for the Parapan American Games in Santiago, Chile in November.
Taking the overall title was BSSS with 1306 points, ahead of Blue Marlins who amassed 1277 points.
Third was Solid Base – 196, with Pirates Swim Club of Barbados in fourth position on 85 points.
Grenfins took the fifth place with 64 points and on 49 points were the swimmers who competed unattached.