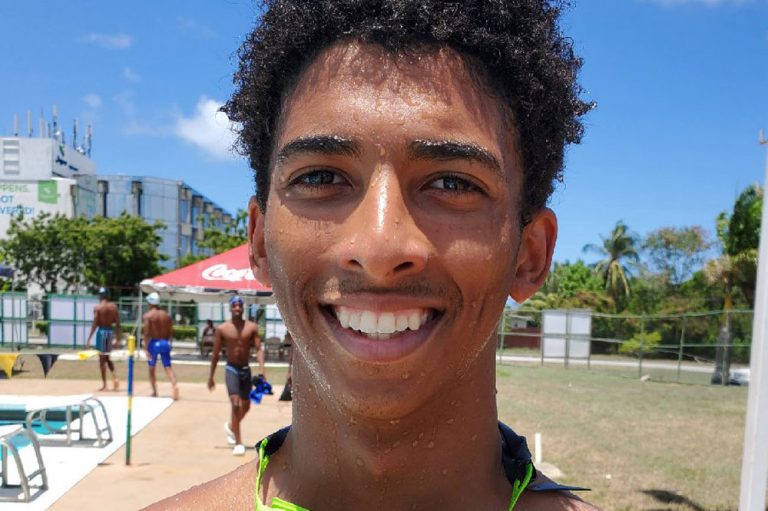 Joachim sets more national Swim records, Paris a prospect
Five St Vincent and the Grenadines Open records, five personal bests, five finals, three PAN AM Games B Qualifying standards and 3373 FINA points, were Alex Joachim's takings, at the Central America and Caribbean(CCCAN) Aquatics Championships held in San Salvador, El Salvador from August 14 to 19, 2023.
Joachim set new marks in the 50 m and 100 m Freestyle, the 50 m and 100 m Butterfly, as well as the 50 m Breaststroke.
He thus broke Shane Cadogan's 50 m Freestyle record of 24.26 s done at the 2022 CCCAN championships, bettering it to 24.02 s.
Likewise, the 100 m Freestyle record now stands at 52.17 s, down from 52.78 s, which Joachim did at the World Aquatics Championships last month in Japan.
Meanwhile, Joachim reset the 50 m Butterfly to 25.33 s, faster than his 25.58 s record he established last month in Japan.
Doubling the distance in the Butterfly event, Joachim clocked 57.24 s, breaking his 2019 record of 29.75 s.
And, the new record in the 50 m Breaststroke is 28.89 s, as Joachim shaved off 0.86 s from Shane Cadogan's 28.89 s, achieved at the 2022 Commonwealth Games in Birmingham, England.
Joachim's latest performance at the CCCAN Championships put him as the front man to attain a spot for St Vincent and the Grenadines at the 2024 Paris Olympics.