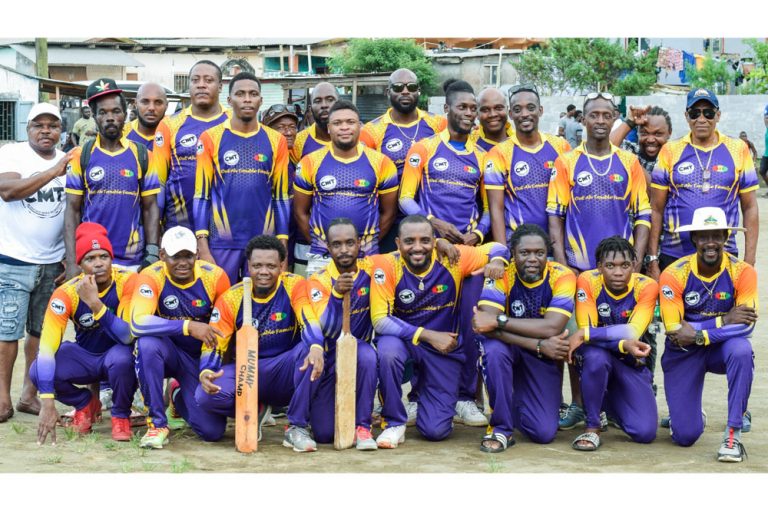 Out Ah Trouble rules Greiggs T10 too
Country Meet Town Out Ah Trouble Family has laid down the marker in Greiggs Softball Cricket.
This, as the potent unit added the Caesar's Real Estate T10 title to their winnings.
Out Ah Trouble formalized the title with an uncomplicated win over Sion Hill Talllawahs last Sunday, August 26, at the Greiggs Central Playing Field.
Batting first, Tallawahs made 71/5 from their full complement of 10 overs.
Leading the way was Player of the Series, Denson Hoyte who posted 48 not out, inclusive of 5 sixes.
Bowling for Out Ah Trouble, Alwyn Quashie captured 2/2.
Sunil Ambris then slammed 2 fours and 5 sixes in a breezy 39, to engineer Out Ah Trouble's response of 77/4 from seven overs.
Ambris thus finished on 217 runs copping the most runs award, while Out Ah Trouble gained $1500 and the winner's trophy.
Sion Hill Tallawahs pocketed $1000 and a trophy, while third place Owia earned $500 and the third- place trophy.
Owia's bronze came at the expense of Bank Of SVG All Stars, as the two squared off prior to the finals.
Scores: Owia – 125/7 from their 10 overs. All Stars – 75/7 from 10 overs, as Owia won comfortably by 50 runs.
Capturing the most wickets -13, was Owia's Allison Lavia, while AIA Reload's Jarando Jardine was awarded for taking the best catch, and AIA Reload won the Best Dressed Team title.
Attention shifts to the 20/20 format, as Out Ah Trouble attempts to stay as champions, having won titles in 2018, 2019 and 2022.