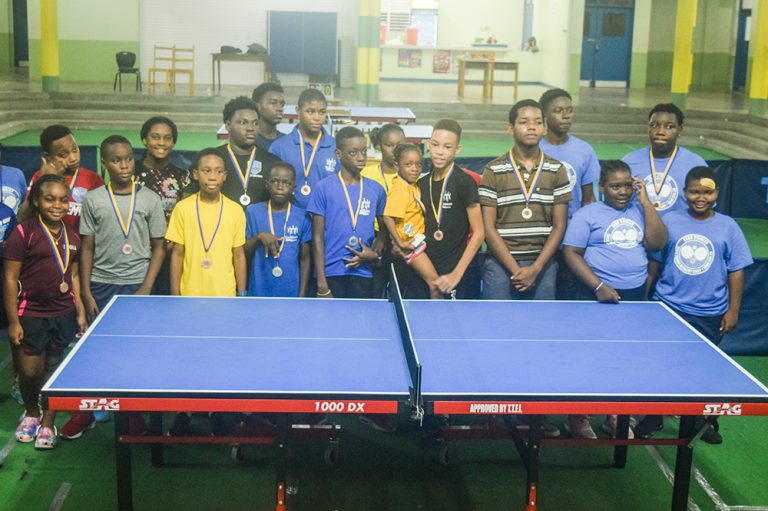 Education minister lauds the efforts of Summer Sports Camps
Minister of Education and National Reconciliation Curtis King is of the view that having sports camps during the long July/ August school vacation is vital to students' educational development.
King expressed the view on August 21, as he addressed the closing ceremony of the Sean Stanley Table Tennis Academy Regional Camp, at the West St George Secondary School.
According to the minister, "Meaningfully engaged does not always mean in academics …Their participation in sports and other activities allow them to exercise their mental faculties".
An ardent lover of sports, the Minister gave one of the virtues of students' involvement in sports and how it aids academic development.
"Very often they have to be thinking critically so that sports and academics must go together," he emphasised.
The camp, which ran from August 11 to 21, involved young Table Tennis players from Barbados, Trinidad and Tobago, as well as host country St Vincent and the Grenadines.
Barbadian Kevin Farley of Caribbean Unity Sports, along with Trinidadian Aaron Edwards of the
Queen's Park Table Tennis Club and Vincentian Shevorn Clarke, were the coaches imparting knowledge to the participants.
Trevor Mc Intosh of Trinidad and Tobago provided the strength and condition training.
The overall success of the camp was recognized by King, who was happy that the participants were able to enhance their Table Tennis skills.
"I am very happy that the students while they were here (in St Vincent and the Grenadines) were able to enhance their skills," underscored King, who is also the Parliamentary Representative for West St George.
The camp culminated with a one-day competition among the participants, who competed in four categories.
Apart from Table Tennis, the campers visited Bequia, River 14, as well as shopping expeditions in Kingstown.