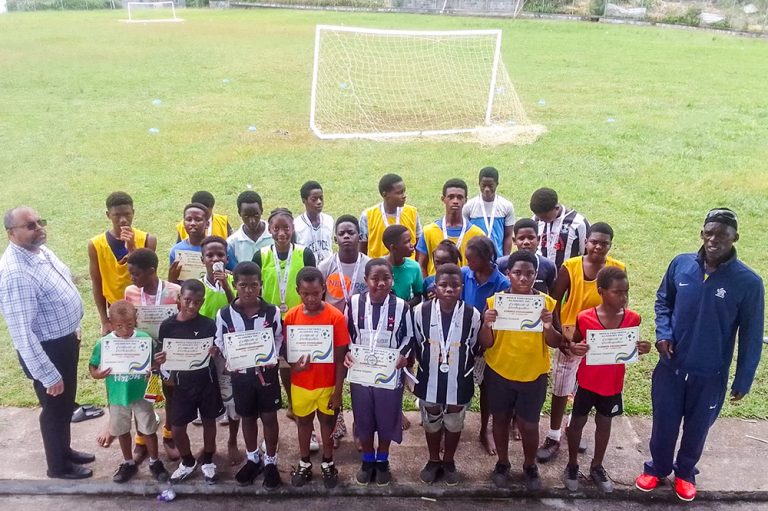 Football being used to steer Kingstown youth away from crime
Over 50 youth from Green Hill, Redemption Sharpes and surrounding communities in Kingstown have successfully completed an intensive football program aimed at improving their understanding of the game and keeping them away from deviant activities.
The students, aged five to 17, spent the four weeks in team-building activities and game strategy which climaxed with a ceremony at the Green Hill Playing Field where participants were presented with certificates of participation.
President of the Mona Football Academy and former national footballer, Carlton Dennie, said he is mindful about the high incidents of crime which affect certain communities around the country. He said he believes sports is the answer to saving youth from a life of crime.
"What I am discovering is that the people need football and sports can really reduce a lot of crime. I see sports like football helping these youth."
Dennie said while he was satisfied with how the sports program ran for its inaugural year, he admitted it was challenging to pull off with little financial backing.
He said while he was able to secure some sponsorship from the Office of the Prime Minister and a local beverage company, he believed the program could have been improved with the additional assistance of the St Vincent and the Grenadines Football Federation (SVGFF).
He said the Academy has held previous tournaments in 2019 and 2020 and the community has welcomed the sporting initiatives where youth can put their talent to use.
"The whole community is asking when we are having a league [competition]," Dennie said.
In addition to coaching at the community level across a number of divisions, where he was awarded Top Coach in the National Community Inter-league Tournament by the St Vincent and the Grenadines Football Federation in 2015, Dennie has also coached at the national level at Under 15 and he said he has set his sights on leading a senior team to the biggest football stage.
"I want to carry Vincy to a World Cup, that is my dream and I believe it will happen."
Dennie said he is committed to advancing football at the community and national level.