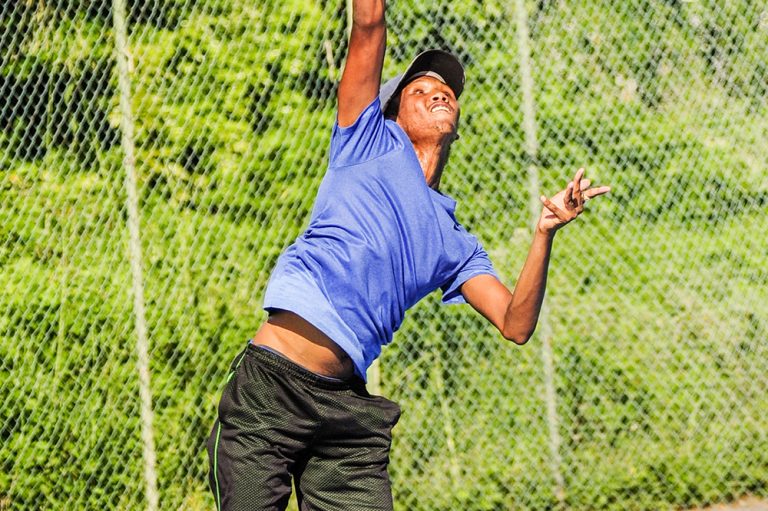 Former national player urges intensive training for junior tennis players
A former national player has called for junior tennis players in St Vincent and the Grenadines (SVG) to train more and to do so with purpose.
Anthony Boyea spoke after observing the early exit of the majority of Vincentian players in the first round matches in the 2023 National Lotteries Authority International Tennis Federation tournament, on Monday August 7, 2023.
"I think our players need to train at least six hours per day or 30 hours per week. Because of the unavailability of courts, it's very difficult for our players to achieve their goals. Most of them are still in school.
"The courts must be available for high-performance juniors with proper coaching from a level-2 coach. This programme can be early mornings between the hours of 5:00 a.m. to 8:00 a.m., depending on the conditions and the evening sessions can be from 3:00 p.m. to 6:00 p.m."
Some of the Vincentian players told SEARCHLIGHT they do not have access to the courts, which has had a negative impact on their development.
Boyea, who was the tournament director said many of the tennis players in SVG need to have a goal in mind, because most of them are "playing without any purpose. Most of our players lack confidence. It is the responsibility of the coach to structure the lesson in a way to get maximum training. For instance, a good drill for advanced training is the two-against-one drill, with a rotating system. These players must be able to hit 100 consecutive strokes."
He continued, stating: "One has to be focused on what he/ she wants to achieve as a tennis player. Do you want to be an average player? Or do you want to be a high-intensity player for college tennis or futures tournaments?
"With proper training methods and advanced high-performance training, it will take lots of finances to move to the next level which will include playing ITF junior tournaments, attending camps, and playing satellite tournaments."
Among the Vincentian players who had early exits were Che Connell who lost to B'Jorn Hall of Trinidad and Tobago 2-6 0-6; Angello Morgan who lost to Beckham Sylvester of Trinidad and Tobago 1-6 0-6; Jaiden Bowens who lost to Aaron Subero of Trinidad and Tobago 3-6 6-7; and Afi Lucas who lost to Kale Dalla Costa of Trinidad and Tobago 2-6 1-6 in Boys 18 singles action.
Joshua Veira defeated Javed Dowlat of Trinidad and Tobago 6-2 6-1.
In the Girls 18 singles, Afe Lucas defeated Devanie Arjunie of Guyana 6-3 6-1, while Jaydealeah Chambers lost to Tatiana Martinez 3-6 2-6, and Afe Lucas lost her second round match 3-6 2-6 to Gabriela Vilar of the USA.
In the Girls 18 doubles, Afe Lucas teamed up with Reina Alexis Trinidad and Tobago but the pair lost 0-6 1-6 to the American pair of Tatiana Martinez and Gabriela Vilar.
In Boys' 18 doubles, Jaidens Bowens and Angello Morgan lost to the Trinidadian pair of Zachery Byng and B'Jorn Hall 1-6 2-6, while Joshau Viera teamed up with Ling Fung Lionel Ng of Hong Kong but the pair was defeated by Ricky Andrew Romascindo of Guyana and Aaron Subero of Trinidad and Tobago 2-6 1-6.
In the boys doubles match of the day which went to a tie-break, Che Connell and Afi Lucas lost to Adrian Jacobs and Gabriel Jessop of the USA in a boys 18 doubles clash on court 3. Jacobs and Jessop won the first set 6-1, but Connell and Lucas stormed back to win the second 6-3. In the tie-break, Jacobs and Jessop prevailed in a ding-dong affair 11-9, prompting a spectator to remark: "These boys need to practice more…it is clear that they are not practising enough."