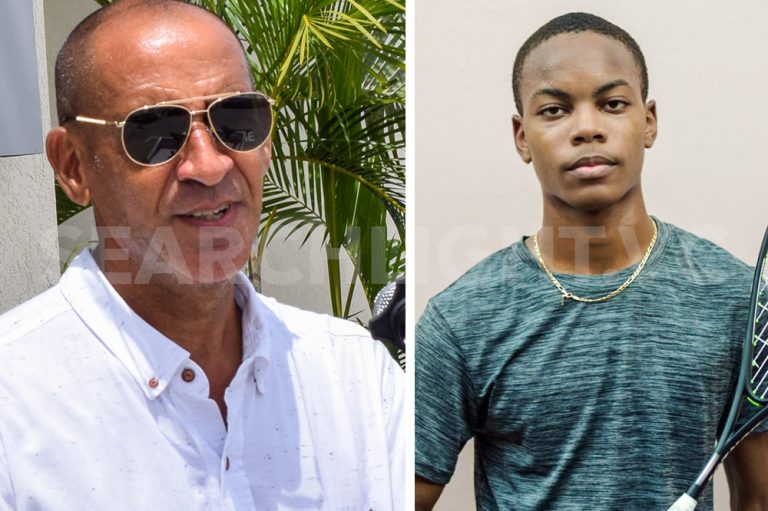 Jayden George wins three straight Junior CASA titles
After three years of competing at the Caribbean Area Squash Association (CASA) Junior tournaments, Vincentian, Jayden George, is yet to be beaten.
George completed his trilogy of titles last Monday evening, July 17, at the National Squash Centre, Paul's Avenue, when he copped the Under-15 title.
Squaring off against Owen Rosorea of Bermuda in the title match, the unemotional George was unchallenged and ran out an easy winner 11-5, 11-3, 11-1, to the delight of the Vincentian spectators who court-side or who were following the live feed.
Before his duel with Rosorea, George had defeated Christopher Bovell of Trinidad and Tobago, 11-5, 11-1, 11-3; and got past Daniel Sealy of Barbados, 11-8, 11-5, 11-3.
By winning his latest title, George is the third Vincentian to have won the Under-15. The first was Kevin Hannaway in 2008, and Jaydon Williams did so in 2022.
Additionally, Monday's win was George's third successive CASA title. He won the Under-11 in 2019 in Trinidad and Tobago, and the Under-13 last year in Guyana.
In so doing George created some Vincentian Squash history, as he is the only one to have won in three age categories, consecutively.
And, George has surpassed Paul Cyrus, who won Junior CASA titles in 1982 and 1983, winning the Under-16 Boys category back to back.
Other Vincentian Junior CASA winners were Enrique Riveroll, who took the Boys Under-12 in 1986; Diarra Venner in 2004 won the male Under-13; and in 2010, Jason Doyle copped the Boys Under-13.