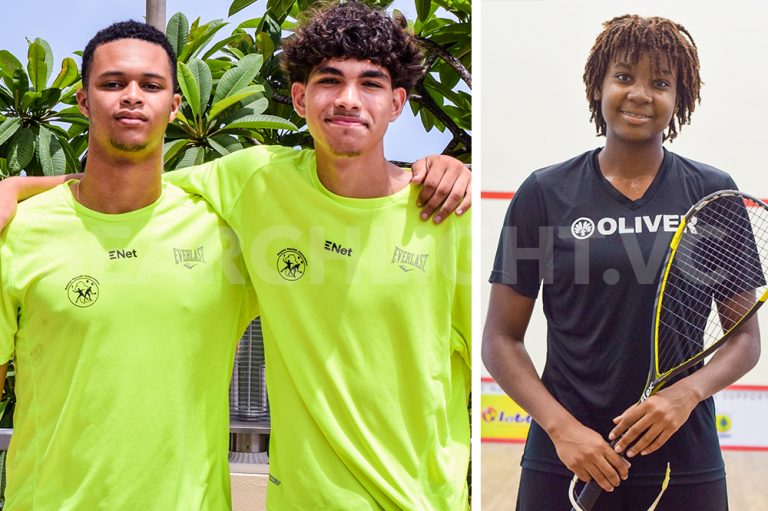 Barbados, Guyana lead Junior CASA singles titles
Barbados and Guyana took most of the singles titles in the 2023 National Lotteries Authority Caribbean Area Squash Association (CASA), that is slated to end tomorrow, Saturday, July 22.
Starting with the Under-13 age group, Barbados secured both categories, as Ben Shepherd overcame Ethan Mohamed of the British Virgin Islands in the Boys final, winning, 11-1, 11-5, 11-3; and Lenna
Hamati scalped the Girls Under-13, with an 11-7, 11-7, 10-12, 11-2 defeat on Kaylee Pierre of the Cayman Islands.
Meanwhile, Barbados secured the Girls Under-17 and Under-19 titles; with Eboni Atherley pouching the Under-17 title, handing Sanjana Nallapati of Jamaica an 11-1, 11-1 11-4 defeat; and Sumaairaa Suleman won the Under-19 defeating Kirsten Gomes of Guyana, 6-11, 11-8, 11-9, 11-6 in the title decider.
Wins for Guyana came from Avery Arjoon who beat Somers Stevenson of Bermuda 11-7, 11-5, 11-6, to win the Girls Under-15; Louis Da Silva won from fellow Guyanese- Mohyran Baksh 17-15, 9-11, 11-4, 11 -7, to take the Boys Under-17; and Nicholas Verwey trumped the Under-19, defeating Alex Stewart of Barbados 12-10, 11-1, 11-6 in the final.
Mason Smith of Bermuda took the Boys -11 title, defeating Benjamin Sherratt, 16-14, 11-8, 11-7 in an all-Bermuda final; while Gia Ghuran of Trinidad and Tobago won the Girls Under-11, ousting Delilah Pease of the British Virgin Islands, 11-5, 11-7, 11-5 in the final.
The other title was won by Vincentian- Jayden George, who took the Boys Under-15 title.