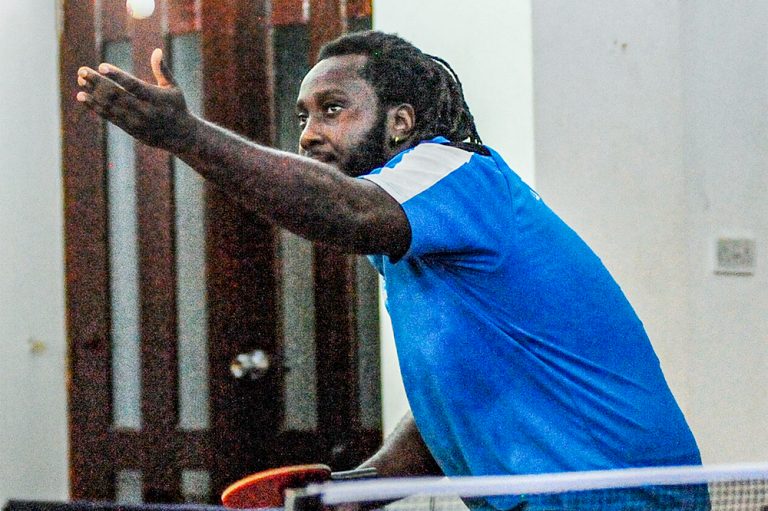 Winners decided in special Table Tennis tournament
Last Monday June 26, the finals of the Spencer's Table Tennis Club special Table Tennis tournament sponsored by 'My Smart Toilet Seat', was held at the Sir James F. Mitchell Auditorium at the New Democratic Party headquarters.
Contesting the first of three finals in the June 19-24 tournament were Lamont Gregg and Zadus Cyrus in the Under-16 division, with Gregg winning 3 sets to 1; 8-11, 11-5, 12-10, 11-9.
In the Female open finals which followed and was contested on a best-of-seven format, Unica Velox who overcame fatigue, won Jessica McCarter four sets to two: 11-5, 11-8, 11-8, 8-11, 10-12, 11-9.
In the third final of the afternoon in a best-of-seven format, defending national champion Damion Dublin, defeated Tykel Pierre four sets to one: 11-7, 11-7, 8-11, 11-9, 11-3.
It was the first-of-its-kind Table Tennis tournament and was open to participants of all levels, inclusive of former national players, current national players, both primary and secondary schools students and coaches, and representatives from the different table tennis clubs throughout St. Vincent and the Grenadines.
Three categories were contested, namely Open Men, Open Women and Under-16 Boys, with the winner of each category receiving EC$1,500.00, EC$1,200.00, and EC$1,000.00, respectively. Additionally, the losing quarter-finalists, and semi-finalists received cash prizes, making the total prize money of EC$10,000.00 the largest prize money for a table tennis tournament in St. Vincent and the Grenadines.
The organizers said the event aimed to help players refine and further develop their skills; give incentives to the players of various age groups to train harder so they can continue to compete locally, regionally and internationally; and to improve the sport of Table Tennis in St. Vincent and the Grenadines. Another tournament is expected to be held later this year, with the possibility of an increase in prize money.