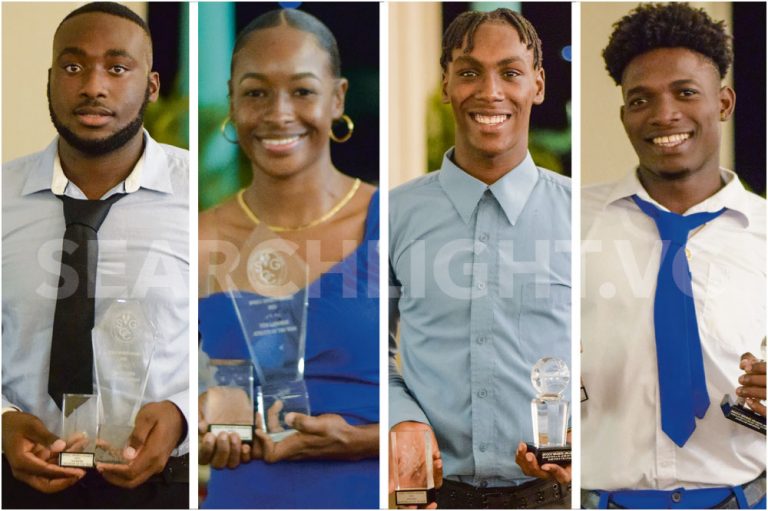 News, Sports
June 30, 2023
Kirtney Franklyn takes SVGCC's Sports Personality Award
Kirtney Franklyn was the toast of the night last Sunday, June 26, at the sports awards ceremony of the St Vincent and the Grenadines Community College (SVGCC).
A natural sportsman, the multi-talented Franklyn pouched the major accolade, sports personality of the year, at the second edition of the event held at the College's Hospitality and Maritime Training Institute at Diamond.
He achieved the prestigious award on the back of his involvement in most of the sporting activities of the college for the 2022-2023 academic year.
Among some of his stand outs, were exploits in Basketball, Cricket and Table Tennis.
In Basketball, Franklyn was adjudged the MVP of the College's Basketball competition. Additionally, Franklyn pouched the MVP of the Associates team, and was the MVP in his team's semi-final encounter.
Franklyn was pivotal in Associates making it to the final, despite having to settle for the runner- up spot in the competition's decider.
His cricket exploits saw Franklyn helping Division of Arts, Sciences and General Studies reach the final of the College's T/10 competition. Nationally, he scalped seven wickets for Northern Stars in Division One of the national cricket tournament.
In the Winlott Inc. Under-19 tournament, Franklyn had the most wickets- 12, and was the lone bowler to earn a five wicket haul- 5 for 48 against St Lucia in the final.
Franklyn was rewarded with a place in the Windwards team to the Regional Rising Stars Tournament.
And, in Table Tennis, Franklyn was the losing finalist in the male division of the College's invitational competition.
Also a national Under-20 footballer, Franklyn is a member of the North Leeward Predators Football Club and plays Rugby for Leeward Invaders.
In addition to the sports personality title, Franklyn was named as the basketballer of the year and the Sportsman of the Year.
Playing second fiddle to Franklyn on the night was fellow North Leeward resident, Teia Laborde, who was the athlete of the year, the non- affiliated athlete of the year, and the sportswoman of the year.
Copping the footballer of the year was Steven Pierre, with Leah Cumberbatch crowned Table Tennis player of the year. Jamaar Cropper was basketballer of the year; Kylia Miller netballer of the year; and Reshawn Lewis was named cricketer of the year and most promising athlete.
Other awards presented on the night saw, Hope & Hope Inc, BlueChip Basketball Academy named the non-affiliated entity of the year and the Division of Arts, Sciences and General Studies being the Division of the Year awardee.
There were awards given to some "Unsung Heroes". The recipients of these awards were Jimmel Lewis, Reuben Ross, Orianne Ambris, Jlan Mc Master, Jahva Audain, Clenetta Brudy and Marsha Marshall.
" Maintaining an elevated standard" was the theme of the awards ceremony.