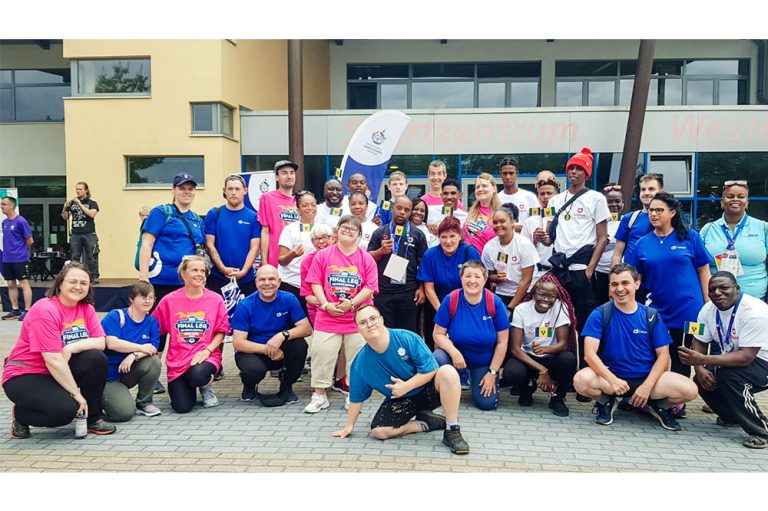 SVG Special Olympians ready for World Games competition tomorrow in Germany
Nine Special Olympians are representing St Vincent and the Grenadines (SVG) in three sporting disciplines – Track and Field, Swimming and Tennis, at this year's World Games which opens tomorrow, June 17 in Berlin, Germany.
Two athletes will participate in Track and Field; three in Swimming; and four in Tennis.
Director of Training for Special Olympic SVG Terrance Davis, while not making definitive predictions, is confident that the athletes will give maximum performance in all disciplines.
" I know that the athletes have put a lot of work into it and we have a very good record of always representing St Vincent and the Grenadines and ourselves … I do believe giving our best, we will definitely do- as our history would have proven time and time again", Davis said last Sunday, June 11, ahead of the team's departure for Germany.
He reiterated that over the years, SVG Special Olympics has continued to up their efforts at the World Games.
In comparison with the team to the 2019 Games in Dubai, Davis however has cautioned that because of the reduced numbers the medal count could be affected.
With representation from 25 athletes at the Abu Dhabi Games, St Vincent and the Grenadines reaped 17 medals, comprising seven gold, six silver and four bronze, gained from participation in Football, Bocce, Tennis, Swimming as well as Track and Field.
Prior to the opening of the Games tomorrow, the Vincentian contingent, like the other participating countries had a " Host Town" experience as they spent a few days acclimatising to the conditions there.
The Vincentians got a taste of the culture of the region of Eberswalde and took part in the Torch Run.
St Vincent and the Grenadines began attending the Special Olympics World Games in 1983 in Baton Rouge, followed by their participation in Indiana, 1987; Minnesota, 1991; New Haven, 1995; and North Carolina in 1999- all US destinations.
In 2003, St Vincent and the Grenadines was present at the Games in Dublin, Ireland, but missed out in Shanghai, China in 2007 and Athens, Greece in 2011.
St Vincent and the Grenadines made a return to the Special Olympics World Games in 2015 in Los Angeles, California, USA.