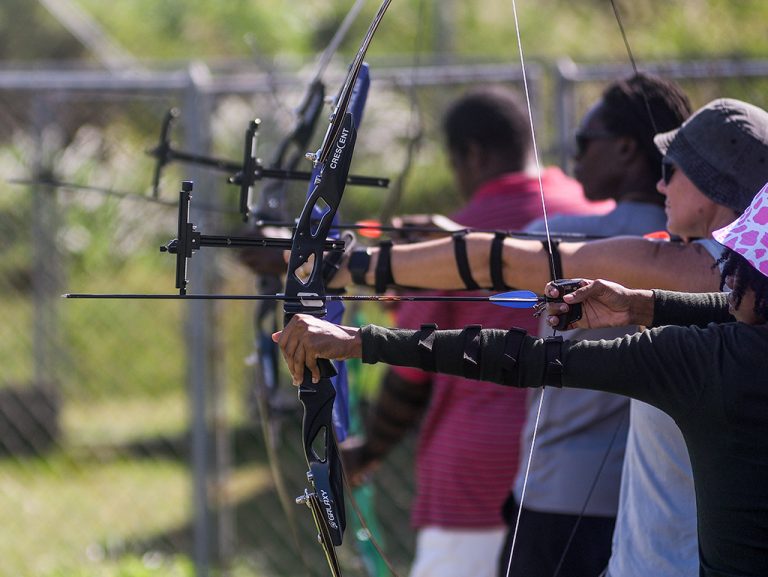 Titles decided in inaugural National Ranking Archery Tournament
ARCHERS WHO HAVE been practising over the past year and a half, had an opportunity to test their skills at the recent inaugural National Ranking Tournament.
The two-day tournament was staged on the compound of the Dolphin Gymnastics Centre at Arnos Vale on Saturday, May 27, and Sunday, May 28 and saw Jared Nichols and Karen Palmer take the two main titles up for grabs.
" We had two general categories namely the Men's open and Women' s open…," president of the Archery Association of St Vincent and the Grenadines, Sanjay Jiandani said as he explained the format of the competition.
"The first day was the qualifying round…. This round saw all archers shoot a total of 72 arrows at a distance of 30 metres".
Jiandani added that "the final scores in this first round determined the ranking order for the second day's double elimination match play…The second day's match play saw head to head matches with all our archers performing at a high level".
After the tabulations were done, Jared Nichols was the top archer in the Male segment; Ian Gibson was second and Vanburn Harry, third.
Karen Palmer won the Female category ahead of Marese Burgin and Richol Richards in that order.
Happy with hitting the range in competition, Jiandani commented that with the hosting of the ranking tournament, the association is in a better position to assess the competencies of archers.
He however lamented the lack of a proper facility to train and shoot from further distances.
Despite these impediments, Jiandani said his association is forging ahead and will be participating in a regional Archery Tournament in Trinidad and Tobago later this year.