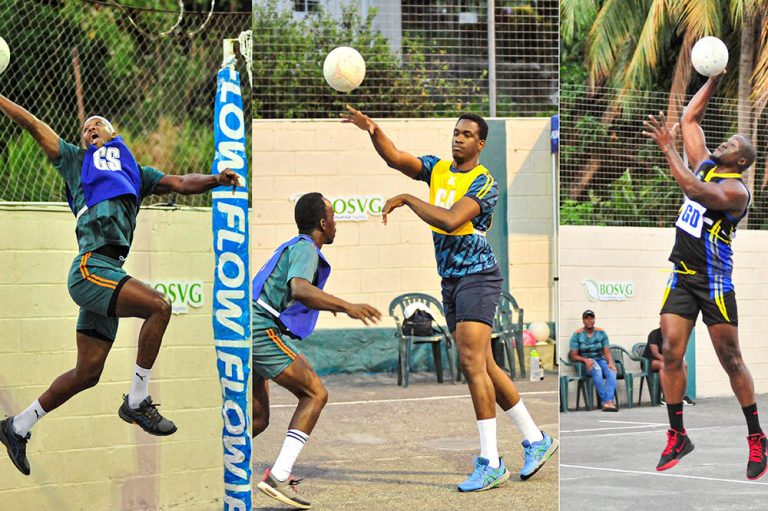 Layne leads Elite to Male Netball title
Dorian Layne with a total tally of 188 goals and a shooting accuracy of 93.07 percent, led Mitres Elite to the Vitamalt Male division title in the Bank of St Vincent and the Grenadines sponsored 2023 National Netball Championships, hosted by the St Vincent and the Grenadines Netball Association (SVGNA).
Layne's jumping and shooting capabilities in the circle ensured that Mitres Elite laid hold of the title from four games played, amassing the maximum eight points. Second place in the team standings was Maca Crushers with two points from four games played, and X-Ceed Knights also on two points from four matches played, placed third.
Layne later told SEARCHLIGHT that he felt the tournament was a success and it was a good move to take the risk to add the Male division since this allowed them not only to market themselves and the sport, but also helped in breaking down barriers.
"Frankly if it wasn't for the Male division there wouldn't have been so many spectators and engagement in this tournament," Layne said.
" The association can only strive for more inclusivity by allowing the males to participate in other netball activities, but keeping it separate by not participating against females and not making viewers feel like we are taking over,but helping with the development of the sport," Layne added.
"With this innovative move the SVGNA has acknowledged that Netball is changing around the world and SVG should not be left in the dust as we have seen old players resurface and new players emerge, so in all it's a win for everyone."
Speaking of his dual role as captain and coach, Layne said "This was my first time coaching and captaining these respective divisions and I won in my roles. Now my name will go down in history right next to the great net ballers male and female who are long gone and retired. So I am grateful for the opportunity and looking forward to a mixed tournament, hopefully, in the future."
Following Layne in the shooting circle with the best average was Akeil Bute of X-Ceed Knights with 87.94 percent, and Maryann Fredericks of On Trac X-Ceed (1) placed third with 87.8.
Annica Dallaway of Sion Hill Sports Club (1) was second in the most goal category with 188 goals from six matches played, and third was Maryann Frederick with 180 goals from four matches played.
Captain of Maca Crushers, the second placed team in the Male division McNeal Duncan, praised the innovation of the SVGNA in including a Male division, noting that it "was welcoming and needed for the growth of Netball. If offers the male the competitive advantage needed as they were able to compete against other male teams. I do hope that this initiative continues and it opens the door for more male teams to participate," Duncan told SEARCHLIGHT.
He added, "as we are approaching a new era of Netball, this inclusion means that the association now has the ability to take part in other tournaments such as mixed tournaments".
He gave plaudits to SVGNA president, Natasha Baptiste for the initiative and congratulated the Netball Association on a well planned tournament.
"I must say that from my team Maca Crushers we had a blast and we enjoyed the tournament to the fullest. We played hard … we kept the fighting spirit all the way. The guys are extremely excited that they were given the opportunity to be a part of this inaugural part of the tournament."
Akeil Bute of third placed X-Ceed Knights endorsed the comments of his male colleagues noting that the "privilege to be a part of history is a feeling the men will not forget."