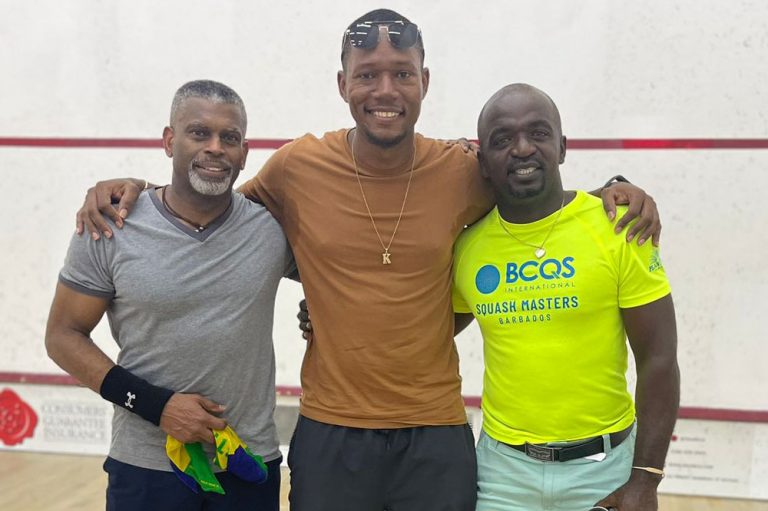 Andre John leads SVG's effort at Barbados Squash Masters
Reigning national Masters Squash champion Andre John, was St Vincent and the Grenadines' best performer in the 2023 BCQS Barbados Squash Masters, held at the Barbados Squash Club from May 17 to 21.
The US based John finished second in the Men's 55 to 64 age group, losing 8-11, 7-11, 3-11 to Barbados' Mark Sealey in the showdown between the two.
Before meeting Sealey, John had wins over Carlos Loo from Canada 11-6, 11-5, 11-3; Tim Dunkley of England, 11-5, 111-5, 11-6; and Paul Sealy 11-5, 11-8, 11-4.
The other members of the St Vincent and the Grenadines contingent were Othniel Bailey and Ceron Padmore.
Bailey took the third spot in the Men's 35- 44 age group. He got off to a good start beating Patrick Downie of Barbados 11-3, 11-1, 11-3, but was humbled by Rhett Cumberbatch, also of Barbados, 6-11, 4-11, 10-12, in the last four.
Bailey, though, ensured that he left the tournament on a high, as he ousted Gavin Cumberbatch 12-10, 7-11, 4-11, 4-11, to cop the third place.
Also competing in that age group was Padmore, who ended in position number seven.
Padmore's journey saw him losing to Barbadian Rhett Cumberbatch, 2-11, 0-11, 5-11 as well as Jeremy Ali of Trinidad and Tobago, 8-11, 10-12, 11-13.
His consolation was an 11-4, 11-2, 11-5 trumping of Patrick Downie in the battle for the minor places.
Winning the men's 35-44 age category was Shawn Simpson of Barbados, with fellow Barbadian Don Bess, taking the Men's 45-54 title.
John Holley of Trinidad and Tobago copped the over -65 Men's title; and the Women's 35-54 age group title went to Barbados' Karen Meakins.
It was the 14th edition of the Barbados Squash Masters.