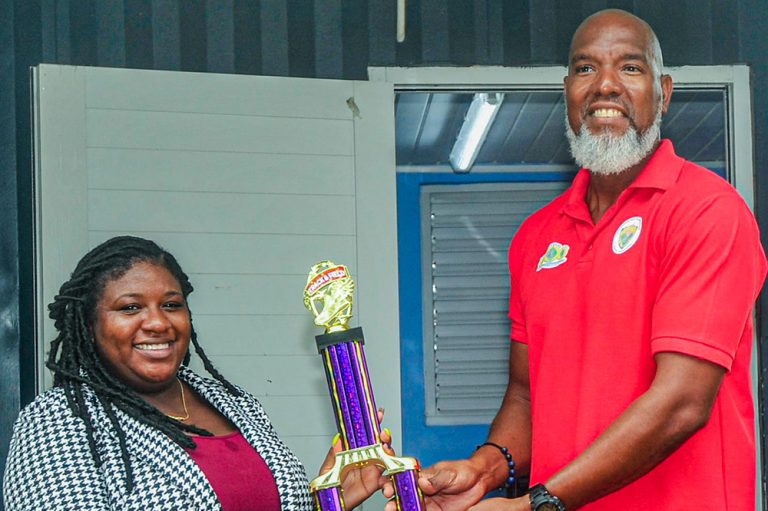 Sports officer calls on more students of SMSS to take part in sports
Sports officer, Kalil Cato has called for more students from the St Martin's Secondary School (SMSS) to take part in sports. Cato, a former athlete and former student of the St Vincent Grammar School (SVGS), said yesterday, May 22, that the SMSS and the SVGS are "the only all-male secondary schools, which means that you have the most boys- more than any other school. So you have a wider group, a wider pool to pick from. It is not for you to sit back and allow the 'established athletes' to go out there and run and do everything every year."
He was speaking at the handover of the third place trophy to the SMSS for the 2023 Inter-Secondary Schools Athletics Championships, which took place on March 30, 2023 at the Diamond Track.
Cato's presentation was the second within minutes at the school that day. The first saw the St Martin's Secondary School receiving the winner's plaque of the St Vincent and the Grenadines leg of the Intra-Country portion of the Regional Schools Investment Competition which took place over the period February 27 through March 3, 2023.
Making the presentation on behalf of the Department of Sports within the Ministry of Education, Cato apologised for not having the trophy on hand. "That was an oversight by persons whose salaries are higher than mine," he noted.
Having congratulated the school on its third place finish in the Boys division of the Inter-Schools Athletics Championships, Cato went on to say "I want to encourage more of you to take part in the sports when it comes around".
" I have always said that when it comes to the Inter-Schools Athletics Championships, there are two schools that should be vying for the top spot every year… that is St. Martin's and Grammar School."
He reminded them that the sport is called Track and Field, and that persons are needed for the jumping events, the throwing events, and to "let the runners run."
He pointed out that there are more students who can have a bigger impact if they take part in the other events.
"The sport is not just about sprints. I am sure that there are people here who can run an 800, a 1,500, a 5,000; all you have to do is go out there and try. I am sure that there are people here who can long jump, triple jump, high jump, throw shot putt, throw discus. It is called track and field. If you have more people in the events you can vie for the first place title every year," Cato implored.
"I am not saying this as a Grammar School man, I love to see competition. I love that it came down to the last race to decide who the winner was."
In the 2023 Inter-Secondary Schools Athletics Championships Boys division, St. Martin's Secondary placed third behind champions St. Vincent Grammar School, and the Barrouallie Secondary School which placed second.
Cato also had some words for students who say they are supporting the athletes but do not turn up to the track to witness the events and are " probably at a bus stop liming some girl."
" Next time take the girl and go to the sports and lime there."