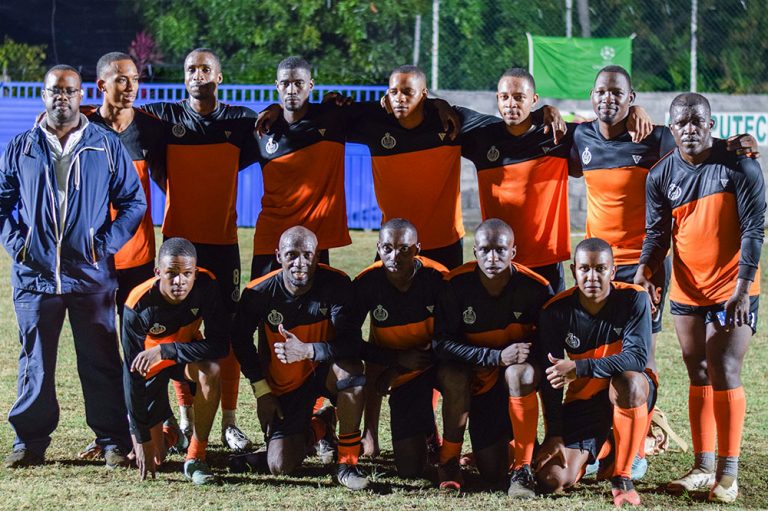 Police take charge of Seven A Side Football competition
It took sudden death penalty kicks last Sunday night at the Comsports Sports facility at Arnos Vale, to give Police the Comsports Business Houses Seven A Side title with a 2-1 victory over AIA Combine.
Both played to a 0-0 stalemate in regulation time and were 1-1 after the first three penalties in extra time. The battle of the two outfits from the Ministry of National Security was therefore decided by penalty kicks.
Before getting to Sunday's final, Police saw off Coreas Distribution 2-0, while AIA Combine registered a 3-1 win over CK Greaves Sunrise Ballers, 3-1, in the last four played on Friday.
CK Greaves Sunrise Ballers, however, had to settle for the third place with an emphatic 6-nil beating administered to Coreas Distribution as they battled before Sunday's final.
First place- Police earned $1000 and a trophy, with second place – AIA Combine collecting $600 and a trophy, and CK Greaves Sunrise Ballers receiving $600 and a trophy.
In addition, Police and CK Greaves Sunrise Ballers were awarded with trophies for winning Group B and Group A respectively.
The competition's top goal scorer was Kyle Quashie of CK Greaves Sunrise Ballers' who sank seven goals.
Ronaldo Franklyn of Police was adjudged  the MVP of Sunday's final.
Completing the 12-team competition were CK Greaves Strikers; Coreas Hazells Inc.; HVAC; CWSA Sports Club; Laynes Hardware +; Excited Bonadies; Vinlec Sports Club; and ECGC Ballers.
When the competition started in 2022, six teams competed, with CWSA Sports Club landing the first title.