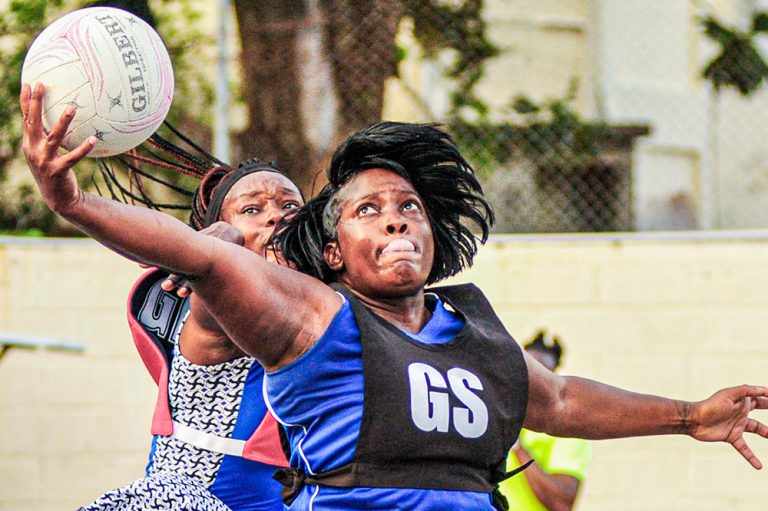 X-Ceed retain Division One netball championship
OnTrac X-Ceed (1) retained their Division One Netball title with a hard fought 3 -1 series win over the Inter-Island Trading/DHL Mitres on Tuesday, May 9, in the St. Vincent and the Grenadines Netball Association's National Netball championships, sponsored by the Bank of St Vincent and the Grenadines (BOSVG).
OnTrac X-Ceed (1) in their 47-41 defeat of Inter-Island Trading/DHL Mitres in the all important fourth game, led in all quarters 16–10, 25– 21, 36– 31, and 47– 1.
Maryann Frederick scored 42 goals from her 50 attempts; Kay-shorn Lowmans managed 5 goals from her 10 attempts; while Shanice Daniel failed to register a goal from her 2 attempts.
For Inter-Island Trading/DHL Mitres, Shanique Deshong scored 22 from her 31 attempts, and Shalisa Davis netted 19 goals from her 25 attempts.
OnTrac X-Ceed (1) was victorious over Inter-Island Trading/DHL Mitres 3-1 in the series: winning 39-46 on April 4; 58-44 on April 20; 57-48 on May 4; and 47- 41 on May 9.
Coach of On-Trac X-Ceed Godfrey Harry, in a post-game interview said the team started slowly in the tournament having lost the first game, "but I was not bothered so much. Once the team started gelling and running, they are going to come to their own and do what they have to do, as I kept saying to them during the games, the best thing champions know how to do is to win…".
He observed that in the pre-covid outbreak more teams were involved in the knock out and league tournaments.
Harry however believes that the five-game series "is a good thing in that it gave us more games to play, but the only thing with it, I think the players got a little bored playing the same team over and over."
When asked if there was a player who made the difference between the two teams, he singled out goal-shooter Maryann Frederick "who started as a player who could not play Netball and she has proven herself at the Under-16, Under-23, and Senior levels as a national player and as a club player".
Frederick's dominance in the goal circle was evident, with the statistics showing that she sank 180 goals from 205 attempts in four matches.
Following the game on Tuesday evening, President of the St. Vincent and the Grenadines Netball Association Natasha Baptiste told SEARCHLIGHT that the Association was able to achieve what was expected of the tournament.
"Congratulations to X-Ceed in winning the championship, but there still needs to be some improvement in the quality of play. There were spurts of good play from both teams, but in terms of consistency we saw where the teams were not consistent in executing at all times."
Looking ahead Baptiste said "I can only see Netball going upward from here on. I can see us improving. I can see us assessing where the sport is going and realize that rebuilding is what we need."