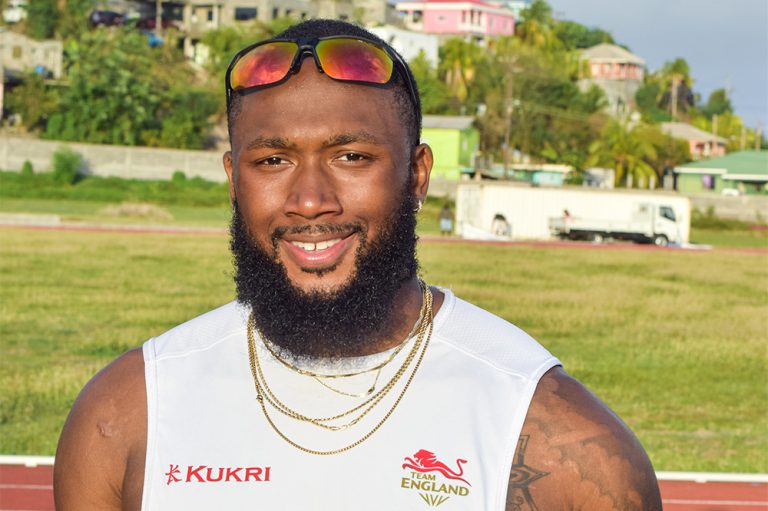 Overseas based athlete happy to compete at home
Vincentian sprinter Jabari Michael Khensu, was happy to be part of this year's hosting of the Wendell Hercules National Open Championships held at the Diamond Track on May, 6 and 7.
It was the first time the US born athlete was competing on Vincentian soil.
Khensu did not have his best performance, however, as he pulled up in the final of the 200 metres, but he felt it was worth the while.
" For me, I was glad to be part of it … incidentally, I was not supposed to run, I was just supposed to come here and watch because I had an injury, got it sorted and felt good enough to compete."
For him, being part of the championships was satisfying.
"It was everything I hoped it would be… I was blessed to come home and be part of a showcase of talented kids … and I feel grateful about that," he added.
Khensu said he has interacted with some of the locally based athletes via social media from time to time, but it was "cool" to see them in person.
The current holder of the St Vincent and the Grenadines Under-20 male 200 metres record, Michael Khensu is optimistic that with the right environment, some of the Track and Field talent being produced here can move on to greater things.
The 24 year old Khensu is a graduate of the University of Pittsburg, and possesses a Bachelor of Arts in Media and Professional Communication.
He last represented St Vincent and the Grenadines in August last year at the Commonwealth Games in Birmingham, England, and the NACAC Open Championships in the Bahamas.
Michael Khensu is the brainchild behind " Project Lace Up", an initiative that seeks to procure running spikes and other gear for Vincentian athletes stationed here in St Vincent and the Grenadines.