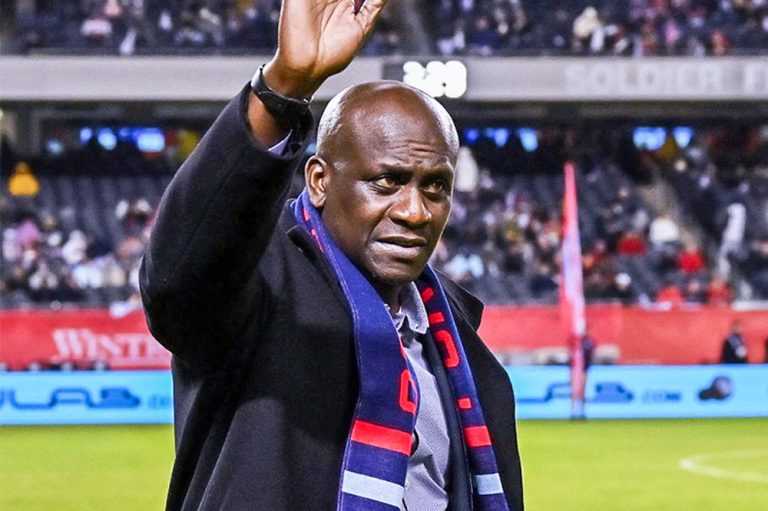 Hendrickson relieved of duties as Coach with Chicago Fire
Vincentian soccer coach Ezra Hendrickson, has been relieved of his coaching duties at USA Football club Chicago Fire FC after a season and a half in the job. The Club currently sits fourteenth in the Eastern Conference table placing them second from last with 10 points from two wins, three losses and five draws.
According to Jonathan Sigal in an article on the Club's website, "This past Saturday (May 6, 2023), they suffered a 3-0 defeat at Nashville SC and have struggled to hold onto leads late in games."
Hendrickson, 51 years old, took over Chicago Fire before the 2022 Major League Soccer campaign, and amassed a record of 13 wins, 19 losses, and 14 draws with the Club across all competitions. The former defender had developed a reputation as one of the league's top assistant coaches during his time at Seattle Sounders FC, LA Galaxy and Columbus Crew.
With Chicago Fire FC having parted ways with head coach Ezra Hendrickson after Match day 11 of the 2023 MLS season and assistant coach Junior González, they have named Frank Klopas as head coach for the remainder of the 2023 MLS season.
He was previously Chicago's head coach from 2011-13, and also held a brief interim stint at the end of 2021. Klopas, who led CF Montréal from 2013-15 has held numerous roles with Chicago Fire over the last 25 plus years.
"This was a difficult decision, but after careful consideration, we felt that a change was necessary at this time as we work toward our goal of advancing to the play-offs and competing for trophies," Chicago Sporting Director Georg Heitz, said in a release.
"We'd like to thank Ezra and Junior for their efforts during the past two seasons, and we wish them all the best in their future endeavours."
Hendrickson's dismissal marks Chicago Fire's third coaching change in the last half-decade. The Club parted ways with Veljko Paunović in 2019, and then Raphael Wicky in 2021. All the while, the Chicago Fire has made the Audi MLS Cup Playoffs twice since 2010, and have suffered Round One exits in both years in which they qualified (2012 & '17).
On Wednesday Hendrickson posted the following on his Facebook page: "Being a head coach in MLS has always been my dream job. I was so excited when I was named head coach of the Chicago Fire FC. I was ready for the moment. All of the MLS Cups, Supporters Shields and national team games as a player, and all of the experiences I gained as an assistant coach, gave me great confidence and optimism that I could inspire and elevate this club.
"We always want a little more time, in life and in soccer, but especially in MLS where the season frequently comes down to the final weeks … I am often reminded that it is not the speed, but rather the direction that determines the success of the early journey. I believe this project was headed in the right direction. The team is 3pts from being tied for sixth in the conference, 3 losses (all on the road), undefeated at home.
"Not everything that counts can be counted, and I know I represented myself, the fans, the club, the community, and Major League Soccer with the utmost professionalism and class. I am grateful for that opportunity. I remain confident that I possess the talent to be a very successful coach in MLS. Right now, I am looking forward to reflecting, learning, growing and preparing for what is next. I appreciate the love and support from my fiancé, family, close friends, coaching mentors, and colleagues. The best is ahead of the journey!"