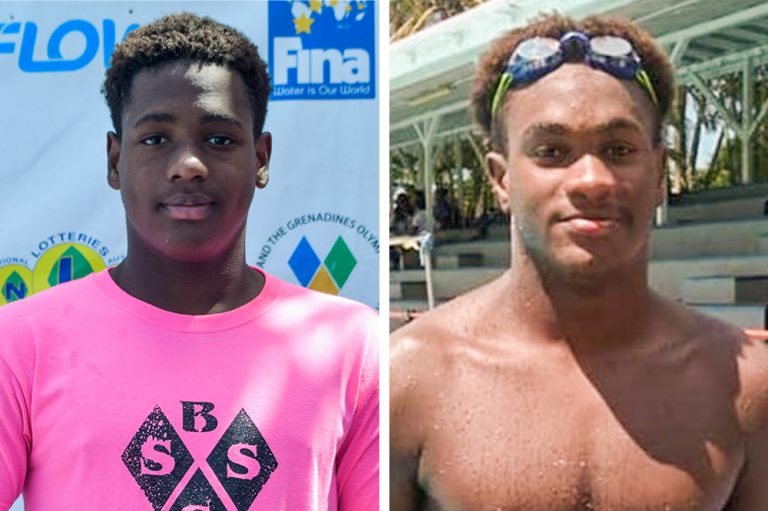 George brothers excel at Barbados Aquatic event
Siblings, Bryson and Brandon George left their mark on the Barbados Aquatics Sports Association (BASA) Long Course event, held at the Barbados Aquatic Centre last weekend.
When the championships ended last Sunday, March 5, the elder brother Bryson had pouched five gold medals and a silver.
Competing in the male 18 to 24 age group, Bryson mined his gold medals in three Breaststroke races- the 50, 100 and 200m, as well as the 50m Freestyle, and the 200m Individual Medley.
To the good, the US University bound Bryson, who was part of the St Vincent and the Grenadines Swim team to last year's Commonwealth Games in Birmingham, England, copped silver in the 50m Butterfly.
In the case of the younger brother, Brandon, he rewrote two national seven year old records at the championships.
The new marks were achieved in the Male 15 to 17 age group 100 and 200m. He timed 1:03.81 in the 100m. The previous record holder was Nikolas Sylvester, who in 2016, clocked 1:06.57.
Brandon's other record saw him clocking 2:23.00, erasing Cruz Halbich's 2:34.84. In both instances, Brandon pouched gold medals.
Additionally, Brandon copped silver in the 50m Breaststroke, and had two bronze medals in the 50m Freestyle and 100m Breaststroke.
The two brothers, along with Zariel Nelson, formed part of the Black Sands Swim Squad's trio to the BASA championships.
Nelson returned with a bronze medal, gained in the 13 to 14 Girls 50m Butterfly event.