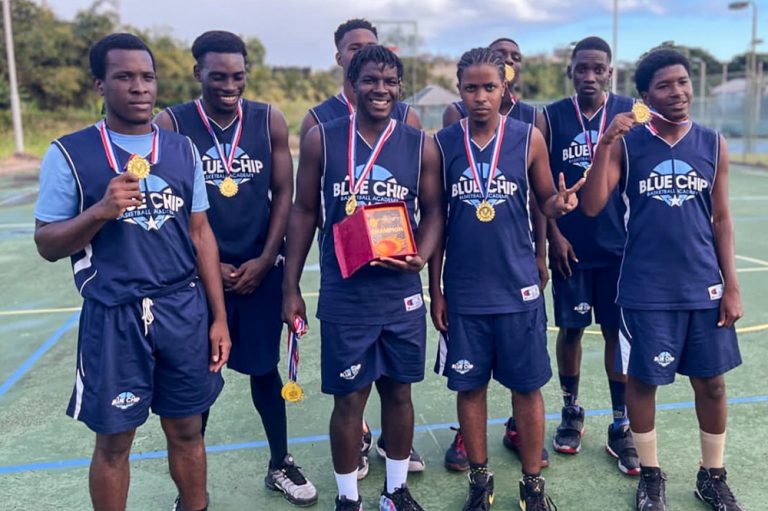 Blue Chip retains title in SVGCC Basketball Tournament
The Blue Chip Basketball Academy has underlined its position as one the more accomplished units in the St Vincent and the Grenadines Community College's Invitational Basketball Tournament when they retained the title  Friday, February 24.
BlueChip defeated Associates Combined in the title match at the Villa Campus speeding to a 13-3 lead at the end of the first quarter, before Associates Combined stormed back to lose the lead by three, ending the half 17-14, with BlueChip still ahead.
It then became BlueChip- 27; Associates Combined- 21, at the end of the third quarter.
BlueChip closed off the duel, scoring 14 points in the last quarter to eight by Associates Combined thus winning 41-29.
Marques Thomas led BlueChip's scoring with 17 points while Maxron Dublin added 14. Adrian Sam was the top performer for Associates Combined with 15 points.
Thomas was named Most Valuable Player of the final.
In the third place play off preceding the final, Playaz Academy saw off the Division of Technical and Vocational Education (DTVE) 40-29. Zwayne Fisher scored 21 points for Playaz Academy, while Kaymal Gopaul scored 13 points for DTVE.
The MVP awards list showed DTVE's recipient being Kaymal Gopaul; DASGS – Jireh Morgan MVP; Playaz Academy- Zwayne Fisher; Associates Combined- Kirtney Franklyn; and BlueChip Academy- Marques Thomas.
Franklyn was the MVP in semi-final one and Jermaine John, the MVP in semifinal two; while in the third place play off, it was Fisher.
Jamaar Cropper of Associates Combined was adjudged Best Defensive player; Marques Thomas,Best Offensive player; while BlueChip's Jermaine John gained honourable mention for his offensive input.
And, the multi- talented Kirtney Franklyn was named the MVP of the Tournament.