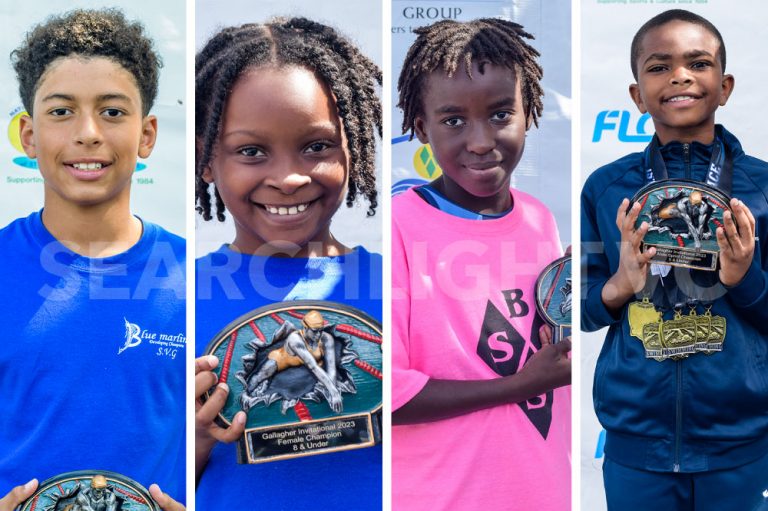 Swim Championships title goes blue
The 2023 Gallagher Invitational Swim Championships' title, changed from black to blue, as the Blue Marlins Swim Club displaced bastions, the Black Sands Swim Squad.
After four days of battle at the Shrewsbury Aquatic Centre, February 16 to 19, the points standings read: Blue Marlins, 1635.5 points and Black Sands, 1364.5 points.
In the process, Blue Marlins secured their first major team title since their formation in 2011.
To add to the glory, Blue Marlins scalped eight individual age category titles.
Blue Marlins thus bossed the 8 and Under; the 9-10; 11-12; and 13-14 age groupings.
Kmar Rose won the Girls 8 and Under, tallying 69 points; with Saj Caesar on 90 points, claiming the Boys title.
In the 9-10 age group, Belle Adams and Caghry Williams, both amassed 126 points, to cop the Girls and Boys titles, respectively.
Tayeah St Hillaire stood out in the Girls 11-12, putting together 108 points; while Jadon Hamilton had an aggregate of 126 points, to earn the Boys champion's trophy.
Zaryah Samuel secured the Girls 13-14 title and Hazen Dabriel, the Boys. Samuel complied 98 points and Dabriel, 96.
The Black Sands Swim Squad pair of Kennice Greene and Kenale Alleyne, swam their way to the 15 and Over title.
Greene champed the Women's title, scoring 91 points, and Alleyne registered 84 points to collect the Men's title.
Sprint Challenge Winners
Unlike the individual age group titles, the Sprint Challenge trophies were even, with both Blue Marlins and Black Sands securing three apiece.
Blue Marlins won the Boys 8 and Under, compliments Saj Caesar, with Tayeah St Hillaire taking the Girls 9-12, and Jadon Hamilton, the Boys 9-12.
Black Sands' three Sprint Challenge titles went to Nua Griffith, who won the Girls 8 and Under and Kennice Greene, who took the Girls 13 and over title.