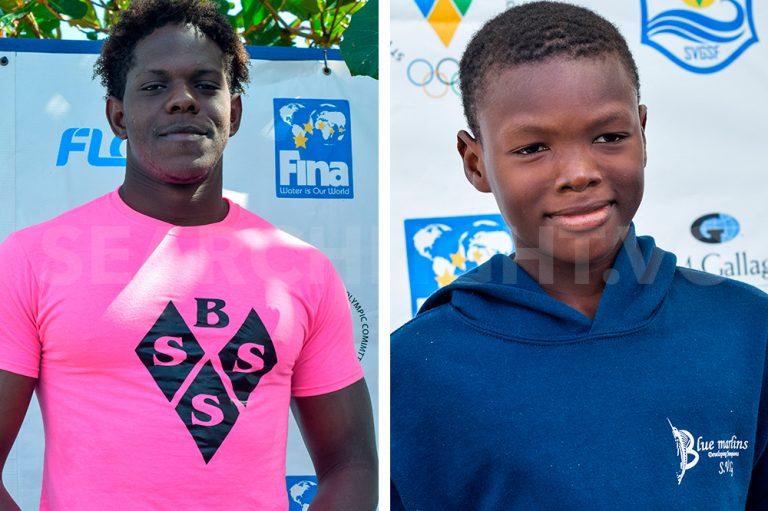 Seven new records set at Gallagher Invitational swim Meet
Seven new national records were set at the 2023 Gallagher Invitational Swim Championships, that took place at the Shrewsbury Aquatic Centre, from February 16 to 19.
The first record setter was Brandon George, who broke the 100m and 200m boys 16-17 Backstroke.
George set a new time of 1:00.90 to erase the previous best of 1:02.58 in the 100m, achieved by Nikolas Sylvester in 2016.
In the 200m Backstroke, George eclipsed Kenale Alleyne's 2:20.32 done in 2021, lowering it to 2:16.28.
Alleyne, however ensured that he remained in the record books, shaving seconds from his own 200m Freestyle record of 1:58.52 achieved at the OECS Championships last year, to set a new time of 1:58.07.
The other records were re-set by Belle Adams, Mya De Freitas, Caghry Williams and Matthew Ballah.
Adams broke Eltonique Leonard's 2021 record of 3:03.25 in the girls 9-10 200m backstroke, resetting it to 2:59.08.
Defreitas broke her own girls 200m freestyle in the 15-17 age group established last year at the OECS Championships, moving it from 2:11.10 to 2:09.67.
Williams shaved 0.08s from the boys 9-10 50m backstroke, erasing Eltonte Leonard's 2017 time of 36.89, for a new record of 36.51.
And, Ballah removed Brandon George's 1:03.76 in the boys 13-14 100m Individual Medley, to set a new record of 1:03.33.