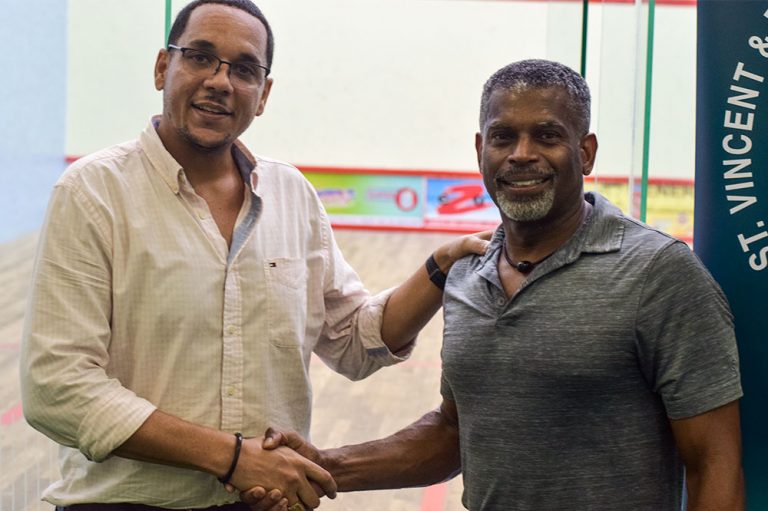 Masters Squash Tournament ignites and entertains
The decision by the new executive of the St Vincent and the Grenadines (SVG) Squash Association to host a three- day Masters Tournament from February 15 to 17 at the National Squash Centre, turned out to be a good one.
This is the sentiment of president, Amber Glasgow, who expressed elation at the outcome and response to the Tournament.
" We are happy that the tournament was a great success … It was an exciting three days of matches," Glasgow related.
Elected on February 4, Glasgow and her executive set to work to stage the Masters Tournament, noting that it was a good way of bringing back the vibe to the sport.
"The Masters Category is undermined in the Caribbean Squash community on a whole as we tend to focus our attention on the Junior players and sometimes we leave out the Masters, but the Masters bring the vibes and the fun", Glasgow reasoned.
She was thankful that her executive got a worthy partnership in BMC Agencies, the title sponsor of the Tournament.
Hence, from the success and insights gained from the tournament, Glasgow foresees possibilities to make the event part of the overall Caribbean Area Squash Association (CASA) calendar and a marquee event on the sporting agenda for St Vincent and the Grenadines.
The tournament was won by Andre John, a US-based Vincentian. John defeated Paul Cyrus 11/5, 11/9, 11/2 in the final. John is a high ranked player in the US Over-55 category.
Docking in third was Roy Defreitas who got the better of Raffie Browne 13/11, 11/5, 12/10, with Keith Boyea taking the Plate Final, overcoming Thornley Myers 11/4, 11/4, 13/11.
In all 12 players contested the Tournament. However, Glasgow expects this number to swell for the next edition, which will be better promoted.