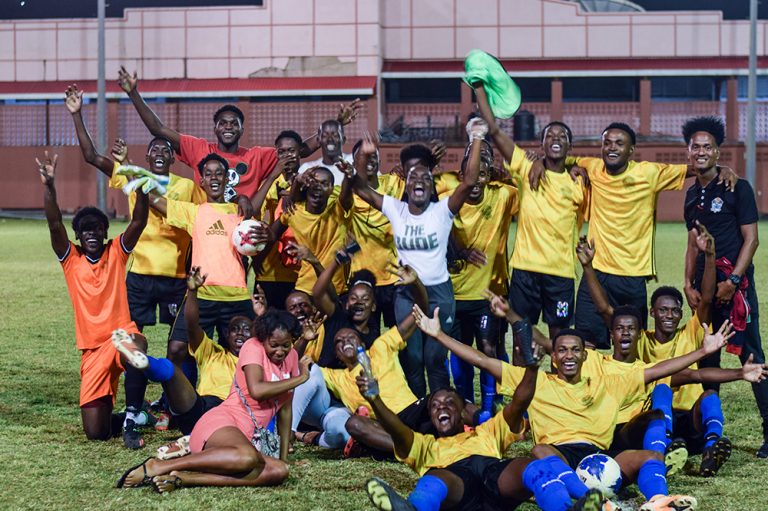 SV United declared First Division champions
With one match in hand, SV United can celebrate their promotion to the Premier Division, having taken an unassailable lead in the First Division of the St Vincent and the Grenadines Football Federation's (SVGFF) National Club Championships.
The Georgetown based club can therefore be declared to be the 2022/2023 champions.
SV United were awarded three points from their match versus Volcanoes which ended prematurely at the Victoria Park on the night of February, 8.
Referee, Shadel Cyrus was forced to blow off the match after assistant referee, Justin Bullock was physically attacked by a player of the Volcanoes team.
At that juncture, the match was interestingly poised at two goals apiece but with Volcanoes having the better of the play.
The fracas that ensued resulted in the intervention of disciplinary committee of the SVGFF.
SEARCHLIGHT understands that SV United was awarded the match and goals, thus the final result showed SV United winning 5-2.
While SV United has been assured of the title and promotion Sparta FC, and Camdonia Chelsea are battling for the next spot to the 2023/2024 premiership ranks.
The two will know their fate when the tournament continues on the weekend of February 25 and 26.
Sparta will face Volcanoes at the Brighton Playing Field, while on Sunday, 26 Camdonia, Chelsea square off against Richmond Hill at Campden Park. Sparta is on 22 points and Chelsea sits on 21 points.
At the other end of the table, the battle to stave off relegation is equally intriguing. Both Richland Park Pride and Joy and Greiggs are on 7 points, but the latter has a superior goal difference.
Parkside Rollers on 9 points, also can be sucked into the relegation race, depending on other outcomes.
In other matches, Greiggs will face already relegated QCESCO Titans next week Saturday at the Campden Park Playing Field, with Pride and Joy fixtured to meet Owia United on Sunday, 26 at the Brighton venue.
Parkside Rollers will be at home to Bequia United from 1:45 p.m on Sunday at the Campden Park Playing Field.
The other match in the final round of the division, features crowned champions SV United against Glenside Ball Blazers at the Chili Playing Field.
Apart from the Parkside Rollers versus Bequia United fixture, all other matches are set to kick off at 3:45 p.m on both days.