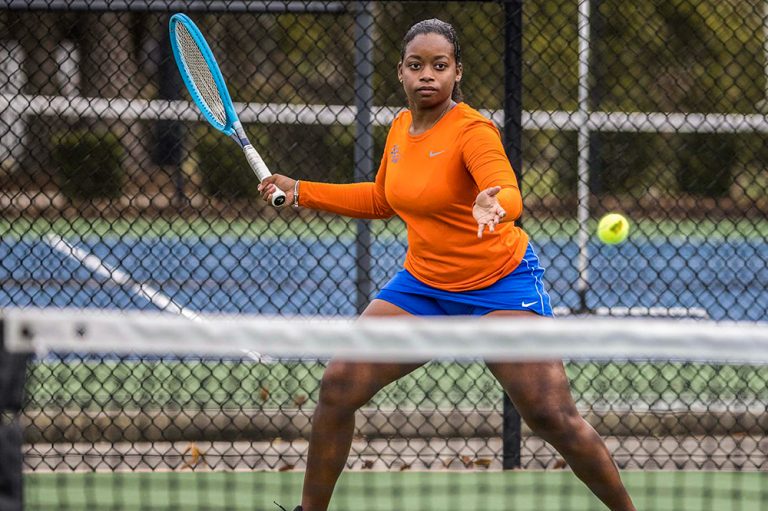 Benn twins provide 1-2 punch for Savannah University
Tennis at Savannah State University, USA is boosted with the return of Vincentian twins Gabrielle and Amarlia Benn; juniors who provide a 1-2 punch at No. 1 and No. 2 in singles, and combined as the No. 1 doubles team.
The Savannah State University Tigers fell just short of a 2022 conference title and an NCAA tournament having lost a key game. Head coach, Charles Keenan is quoted in the university's newsletter as saying, "It was a little disappointing but everything happens for a reason. We had a great season and it was a blast. The championship loss will just motivate us more for the future. Last year, everything fell into place as far as recruiting. Luckily, we landed the Benn sisters (transfers from Ava Maria University in Florida)."
Gabrielle was the 2022 SIAC Women's Tennis Player of the Year and Amarlia was an all-conference selection. Gabrielle finished with a 12-3 record in singles, 10-1 in conference play. Her only SIAC loss came after retiring in the championship match because of an injury.
Gabielle Benn, in her first year at Savannah State, finished the regular season 11-2 in the first court of singles action. Against SIAC opponents in singles play, she was undefeated (8-0). In the first court of doubles, Gabrielle teamed up with her sister Amarlia in the 2022 season finishing 7-6 overall, and 6-1 in conference play.
"She is an aggressive baseliner with an amazing forehand, and when stretched out she will look to slice. She's a lefthander so she will utilize her left-hand serve slice to jam right-handers," Keenan said.
At No. 2, Amarlia Benn was 8-8, but led in three other unfinished matches, and finished 6-2 in conference action, playing in the second and third courts of singles.
The Benn sisters were among Savannah State University players named to the 2022 SIAC All-Conference list.
Meanwhile, today, Friday 17, and tomorrow, Saturday February, 18 the Savannah State University Tigers get their first challenge of the 2023 season in the SIAC's new four-team cluster format, when they host Tuskegee University, Fort Valley State University, and Clark Atlanta University.
Speaking of the 2022 season Keenan said "It was a fantastic season. We fought through injury all year and it just caught up with us in the final game. But, I am very proud of these ladies. They did a fantastic job this season. We hope to build on this momentum moving forward."
The Savannah State University Tigers fell just short of a 2022 conference title and an NCAA tournament bid last spring, losing in the Southern Intercollegiate Athletic Conference (SIAC) title match to Benedict College, 5-2. The defeat put a blemish on a 14-7 season, the best record for the programme since the 1998 team won the SIAC Championship. Savannah State University was 11-3 in conference play, and avenged early-season setbacks to Spring Hill and Albany State.