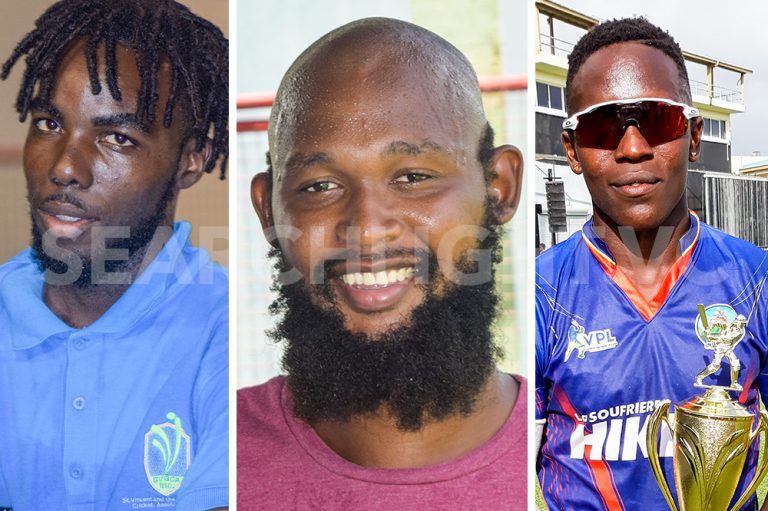 Police Two on the beat in National Cricket Competition
POLICE TWO MADE it win number three from as many matches in the Premier Division of the National Cricket Tournament blazing Carlos Veira Rivals by an innings and 112 runs at the Arnos Vale Playing Field, last weekend, February 4 and 5.
Asked to bat, Police Two piled up 266 for 5 from 33.4 overs. Dillon Douglas led the charge with 104 not out. His knock contained 4 fours and 10 sixes. Shammon Hooper, 49 and Desron Maloney who made 44, were the other principal scorers.
Bowling for Carlos Veira Rivals, Olanzo Jackson had 2 for 49 and Reynolly Hillocks 2 for 69.
In reply, Carlos Veira Rivals were able to muster a measly 77 all out. Kevin Joseph top scored with 28 not out.
Benniton Stapleton picked up 4 for 17 and Romario Bibby had 3 for 7.
Asked to bat again, Carlos Veira Rivals repeated with 77 with Hyron Shallow contributing 37.
For Police Two, Desron Maloney bagged 4 for 31, and there were two wickets apiece for Dillon Douglas, Benniton Stapleton and Romario Bibby.
Meanwhile, Flow Radcliffe bounced back from their defeat at the hands of Police on the weekend of January 28 and 29, to register an innings and 73 runs win over Guardian General Saints at the Park Hill Playing Field.
Saints, electing to bat, were dismissed for 70. Asif Hooper grabbed 6 for 31 and Richie Richards, 4 for 41 bowling for Flow Radcliffe.
Radcliffe replied with 291. Leading the way was Romano Pierre who scored 118, dotted with 12 fours and 5 sixes.
Rayon Williams took 4 for 65; Geron Wyllie 2 for 69; and Jeremy Haywood 2 for 124.
Batting a second time, Saints made 148, with Rayon Williams scoring 34. Hooper scalped 8 for 61, for match figures of 14 for 92; and Romano Pierre took 2 for 21.
And, at the Sion Hill Playing Field, the Flow Rivals and Carlos James MSDA Julius Anthony Northern Stars' match ended in a draw.
Batting first, Northern Stars made 213 for 8 declared. Elron Lewis scored 86 and Tilron Harry, 35.
The main wicket taker for Flow Rivals was Irvin Warrican Jr., who took 3 for 48.
Flow Rivals, replied with 213 all out. Lindon
James contributed 32 and Marcus Castello, 31.
Ronaldo Franklyn was the pick of Northern Stars' bowling taking 5 for 83, and Aleon Caesar had 2 for 44.
Batting a second time, Northern Stars were 141 for 4 when play was called. Leshawn Lewis made 57 and Otis Matthews, 52. Dyke Cato took 2 for 49 and Warrican, 2 for 56 bowling for Flow Rivals.
Two matches are carded for this weekend. Victors One will meet Flow Rivals at the Sion Hill Playing Field, and at Arnos Vale, Northern Stars will face Saints.