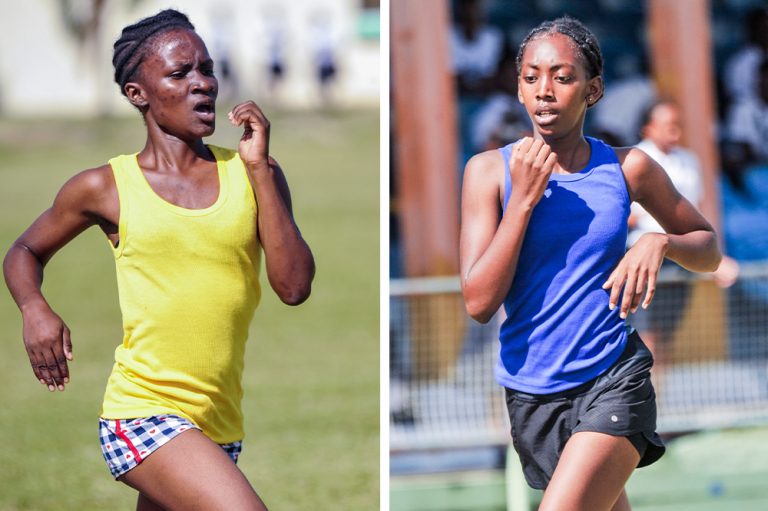 Headmistress takes five podium places in GHS 1500 metre finals
HEADMISTRESS HOUSE dominated on Wednesday afternoon when the Girls High School (GHS) held its Intermediate and Senior 1,500 metre finals at the Arnos Vale Sports Complex, winning five of the six podium places on offer.
In the Intermediate final, Angelisa Corke of Headmistress House ran unchallenged. She took to the front at the starter's pistol and after the first full lap, had already established a 50-metre lead over the rest of the field. Corke gradually increased her lead, crossing the finish line in 7 minutes 18.22 seconds.
Headmistress House made a clean sweep of the podium places in the Intermediate 1,500-metre final, when Reine Browne in a time of 7 minutes, 45.12 seconds, and Kiane Bailey in 7 minutes 45.44 seconds, crossed in second and third place respectively.
In the afternoon's other final, this time the Senior's 1,500 metres, Julie Samuel of Moffet House jumped to the front at the gun, setting a pace which left the other 15 runners fighting for the other podium places.
She lapped two runners and if they had any intention to regain lost pride, Samuel stepped up the pace over the final 100 metres, crossing the finish line in 7 minutes, 2.44 seconds. Headmistress House then captured the two remaining podium places as Jaden Edward-Barry and Kennice Green, crossed the finish line in 7 minutes 50.05 seconds, and 7 minutes 50.55 seconds respectively.