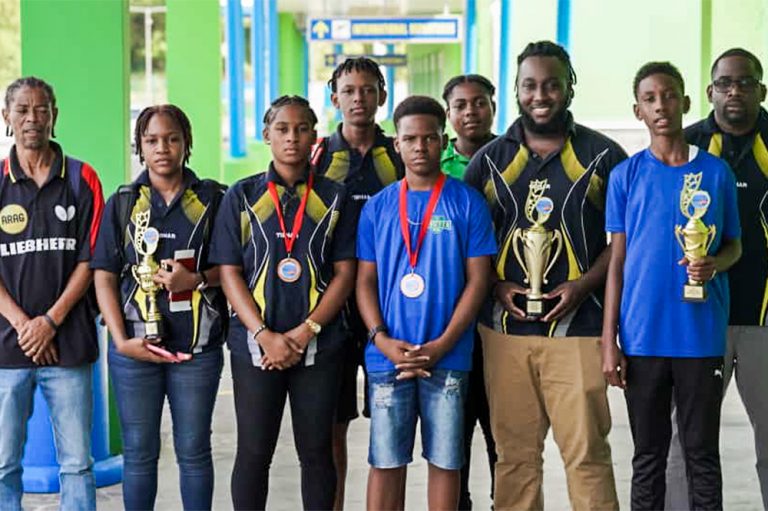 Vincy TT players perform creditably at Grenada Invitational
The St Vincent and the Grenadines representative Table Tennis team came away from the Grenada Table Tennis Association's Independence Tournament over the weekend with three second places and two third places.
Kimoni Shoy in the Under 15 Boys' finals versus Qwanell Walker of Grenada lost 6/11, 9/11,3/11.
In that same age category, Lamont Cregg was beaten by Walker in the semi final, three games to one, 5/11 ,4/11, 11/5, 4/11 to finish third.
Meanwhile, Leah Cumberbatch lost in the finals of the Women's Open to Rose Dinnoh Newland of Grenada, 5/11 ,10/12, 6/11.
Also, Shanecia Delpesche lost to Newland in the semis 11/8, 8/11, 9/11, 10/12 to secure third; and Damion Dublin, reached the Men's final, but lost out to Grenadian Shanon Dowlin 8/11, 11/8, 5/11 , 9/11.
The Vincentian team also included Jessica Mc Carter, Caleb Howard, along with coach, Joseph Carrington and manager, Leighton Adams.
The St Vincent and the Grenadines Table Tennis Association has announced that it would send a Junior team to Grenada next month to compete in the LQ Invitation Tournament organized by the LQ Sports organization based in the United States.