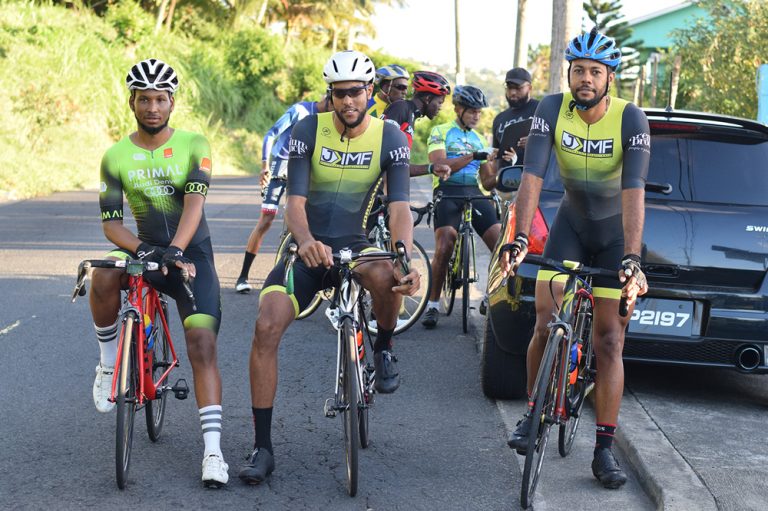 Time Trial and BMX exhibition jump start Cycling for 2023
Last Sunday, January 29, saw the St Vincent and the Grenadines Cycling Union roll out its first set of events for the 2023.
First up was a Time Trial from Arnos Vale to Belvedere, along with BMX sprint races, wheelies and slow man race at the Tarmac of the decommissioned E.T Joshua Airport.
Getting the first taste of victory was Lucky Antrobus who was the fastest over the distance in the Time Trial. Antrobus' clocking was 10:21.46.
He beat Zefal Bailey by just under two seconds, as Bailey stopped the clock at 10:23.17.
Completing the top three finishers was Marlon Antrobus, whose time was 11:27.35.
The rest of the field in order were Peter Durrant ( 11:46.36); Steve Ollivierre ( 12:26.54); Deptor Culzac ( 12:30.20); Rivas Young ( 12:39.11); Martin Bollers ( 12:42.91); Delano Wilson (13:31.48); and Ronaldo Knights ( 15:55.48).
After the seasoned cyclists completed their race it was the turn of the BMX riders to show off their wares and gain bragging rights.
Among those who excelled on the afternoon of fun, was Austin Scott, a budding daredevil who out sprinted his peers.
President of the SVG Cycling Union, Trevor Bailey not only expressed satisfaction, but was jolted by the turn out by the BMX riders.
" I was pleasantly surprised by the turn out of the BMX riders, given there was not much publicity", Bailey told SEARCHLIGHT.
He however, acknowledged that the interest shown at the cycling activities during the annual National Nine Mornings celebration last December was a cue for Sunday's turn out.
" What we are going to do now is to have a focus on the BMX, because it is less expensive, and we are seeing a growing number of riders on the streets regularly…so, we are going to get back our schools' programme…up and running, as well as do the community visits that used to happen in the past", Bailey related.
And, coming out of all this, Bailey said " We are planning a schools' championships, as some secondary schools have shown interest, and already we are in discussion with the respective principals who are already on board with us".
Bailey underscored that the thrust towards the BMX riders would also help in getting across the need for "safety" on the roads.
" We plan to use this period of interest to also sensitize them about safety and at the same time have them actively engaged on a positive physical activity", Bailey commented.
He said that a team from the Cycling Union will journey to Barrouallie this Sunday, February 5, to have a series of races there among the BMX riders.