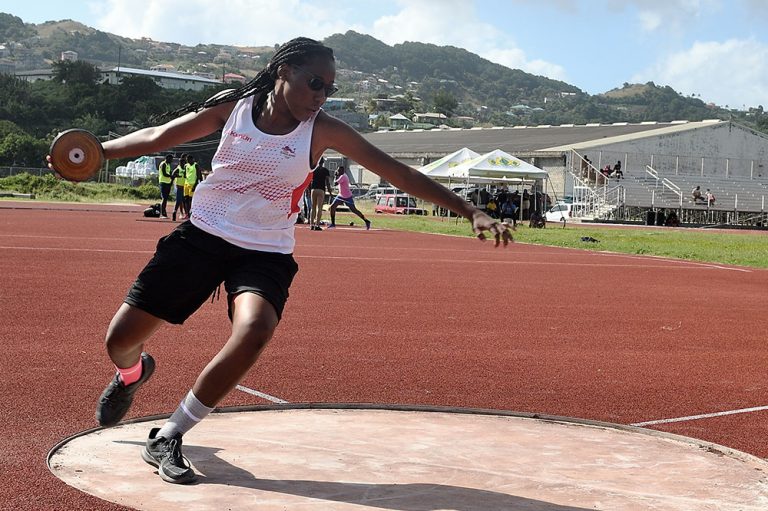 Throwers revel at Diamond
Athletes who are mainly involved in the Throws, had their first outing for 2023, when Team Athletics SVG , staged the annual Throws Classic at the Sir Vincent Beache Stadium at Diamond.
The Throws Classic involved the Baseball Throw, the Discus, the Shot Putt and the Javelin.
The Baseball Throw, which featured mainly primary school students saw Jahcelan John of the Brighton Methodist School winning the Girls Under-9, with Malachi Young of the Questelles Government, taking the top spot in the Boys category.
In the Under-13 age group, both winners emerged from the Brighton Methodist School as Miley John secured the Girls title, with Dario Williams copping the Boys. Jasonique Williams of High Performance, took the Girls Under-15 title.
Meanwhile, in the discus throw, Nicole Solomon of High Performance won the Girls Under-17, with a distance of 19.91m. Another High Performance entrant- J' Kwon Francis, won the Boys Under-17 with a 32.98m distance.
In the Girls Under-20 of the Discus throw, Nabi Pompey of X-Ceed Sports Club threw 26.95m to win, with Recordo Williams of High Performance throwing 29.88, to win the Boys Under-20.
The Open Male category was won by Tarik Compton of X- Ceed Sports Club with a 24.98m distance.
There were double wins for High Performance in the Girls Under-15 and Under-17 Shot Putt event, as Junia John took the Under-15 with throw of 7.45m; and Nicole Solomon, took the Under-17 with a 6.63m distance.
The St Vincent Grammar School's Johnathan Medford pouched in the Boys Under-17 Shot Putt, throwing 12.32m, while the Georgetown Secondary School's Samaaya Connell, took the Girls Under-20 title with a throw of 9.40m.
The Boys Under-20 Shot Putt winner was Recordo Williams of High Performance, with a 10.87m throw. Jimmauh Compton of X- Ceed Sports Club, won the Open Men's segment, with 12.82m distance.
Williams then added the Javelin title to his day's accomplishments, with 26.77m throw. And, High Performances' Cadique Stephens won the Men's Open with a distance of 47.45m.
Team Athletics SVG's next calendared event is a Development Meet slated for February 4, also at the Diamond venue.