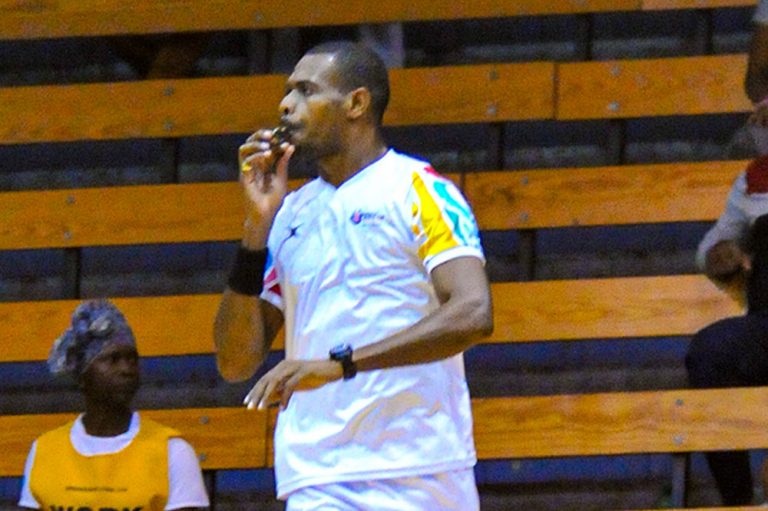 SVG's Moeth Gaymes now an international Netball Umpire
Netball in St. Vincent and the Grenadines has received another shot in the arm, mere weeks after the national team was moved up the global netball rankings.
On Monday, January 24, 2023, World Netball announced the appointment of Vincentian Moeth Gaymes as an International Talent Identified Umpire (ITID). Gaymes, who has been umpiring within the region for over 10 years, has gone through the various stages of both written and practical assessment, and with this appointment. He is poised to umpire matches for teams ranked 11 and below, as well as international youth events.
Following the Americas Netball World Cup Qualifiers in Jamaica in October, 2022 during which Gaymes was assessed, president of the St. Vincent and the Grenadines Netball Association, Natasha Baptiste upon receiving the announcement said, "great achievements are accomplished through hard work, dedication and commitment and Mr. Gaymes is a true demonstration of such. This appointment continues to elevate the sport of Netball in St. Vincent and the Grenadines, not just on the field of play but also in the area of officiating. We trust that Moeth's achievement would be a motivation and encouragement to our young umpires."
She added that: "We are proud that our recommendation and that of the assessors were accepted. The next level for Mr. Gaymes is to attain the status of International Umpire's Award (IUA)."
"…the St. Vincent and the Grenadines Netball Association congratulates Mr. Gaymes on the very prestigious appointment and wishes him every success and he continues the journey to attaining an IUA status."
When contacted by SEARCHLIGHT, Gaymes credited this achievement to God Almighty.
"It means far more than we might imagine. It shows growth in terms of performance as well as determination. Just imagine we move from having only Advanced Umpires of which we've had the most at one point in the region, to having our first ITID. Not only does it put us in a position for our name to be mentioned as a participating country, but also a competitive force to be reckoned with, Gaymes noted.
" This is truly the work of God in my life showing all things are possible if one tries."
Speaking of his umpiring at the World Netball Qualifiers in Jamaica in October, 2022, Gaymes told SEARCHLIGHT "The experience was great being able to perform at almost the highest standard as this was qualifiers for World Cup this year. It's never easy to umpire a home team game but I had the privilege to officiate the America's Region's top two ranked teams, Jamaica versus Trinidad and Tobago. So to be able to officiate the two top teams speaks volumes of my performance."
Gaymes has been umpiring Netball matches for a number of years.
He started at the secondary school level, but his first regional exposure was at the 2008 OECS/ECCB Under-23 Netball Tournament in Saint Lucia.
According to Gaymes: "I have always been around, as my mom and aunties played, so one day I went to a game and there were no officials and everybody looked at me and said 'well you are always around so you could umpire', and that is where it started.
"I will continue to remain humble as this is only the beginning of greater things to come. Becoming SVG's first IUA International Umpire… has always been my goal and this one step away from that achievement is merely a demonstration of my hard work and dedication to the sport as I continue to represent the sport, country, region and the world on a whole."
The SVGNA began conducting weekly netball umpiring training sessions on Wednesday, January, 25, at the Nutricia Netball Court at New Montrose.
President Baptiste said these training sessions are being coordinated and conducted by Gaymes, who is the chair of the local Umpires Committee.