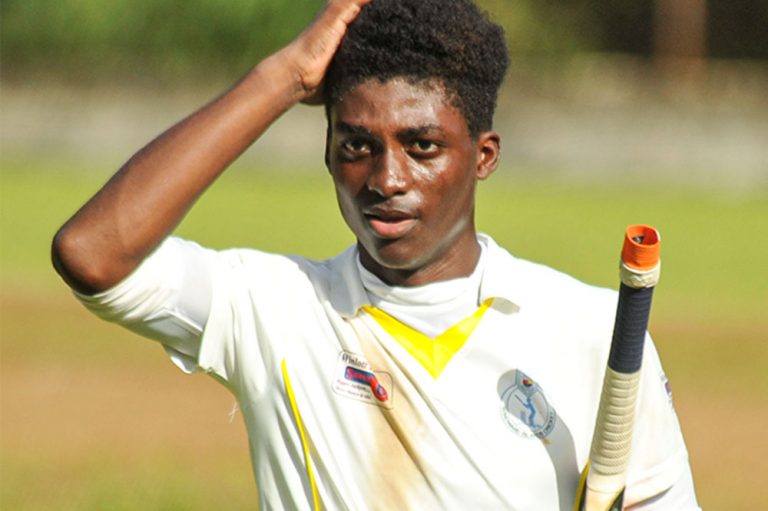 Under-15 defending Cricket Champs, North Union Secondary whipped in Tournament's first game
Swing Kevin Swing! "Swing! Kevin Swing!" were the chants of players of the North Union Secondary School (NUSS), and the few spectators at the Park Hill Playing Field on Tuesday afternoon, as they urged on their school's batter, Kevin Joseph with an eye on victory.
The occasion was the match between the defending Under-15 cricket champions, NUSS and the George Stephens Senior Secondary School which was also the first game on the calendar of this year's Secondary Schools Cricket Tournament.
Chasing 130 for victory from 25 overs, NUSS needed 24 for victory in their final over with six wickets down. Kevin Joseph thumped a 4 and a 6 in the 14 runs scored off the last over bowled by Serani Ronan, but North Union Secondary fell short of the target by 11 runs, closing the inning at 119 for 6 off their 25 overs.
However, Joseph remained 62 not out. Deandre Dougan and Kelron Johnny contributed 10 apiece, while the diminutive 12-year-old, Delroy Tittle scored a patient 4 off the 23 balls he faced, impressing the spectators.
Bowling for George Stephens Senior Secondary, Eljay Roban took 1 for 9; Dexter Baynes 1 for 12; and Elran Glasgow 1 for 22. The first three North Union wickets went by the run out route, and extras contributed 28.
Batting first, George Stephens Senior Secondary reached 129 for 9 in their 25 overs after rain forced match officials to reduce the number of overs by five.
Serani Ronan who top-scored with 30; Elran Glasgow 25, and Jawayne Adams, 16 were the only batsmen to reach double figures.
Bowling for North Union Secondary, Ahmaud Boyea picked up 2 for 10; Julian Stoddard 2 for 20; and Delroy Tittle 2 for 29; while Deandre Dougan, Kevin Joseph and Kelron Johnny all took a wicket each, with extras totalling 36.
At Cumberland, the Petit Bordel Secondary School defeated the Troumaca Ontario Secondary by 50 runs. Petit Bordel batted first and scored 80 in 14.1 overs, with Jeshawn Delpesche top scoring with 11.
Daemar Micheal had the best bowling figures of 5 for 26 from 5 overs for Troumaca-Ontario.
In reply, Troumaca-Ontario Secondary made 31 runs, with a top score of 3 coming from Kimoni Shoy. Ceyon Nash took 3 wickets for 6 runs in 2 overs for Petit Bordel Secondary.
At the Sion Hill Playing Field on Wednesday, January 25, the Intermediate High School won the toss and sent the St. Vincent Grammar School to take first knock. Led by Alston Bobb jr with 48 not out, Grammar School reached 184 for 5 off 27 overs. Josh Ellis made 32, and Zach Thomas contributed 30.
Bowling for Intermediate High, K. Edwards had 2 for 24, D. Thomas 1 for 19, and J. Chance 1 for 34, with extras contributing a massive 70 comprised of 49 wides and 21 no-balls.
In response, Intermediate High School were dismissed for 77 in 20.5 overs; Juan Chance top-scoring with 28. Jorroni Douglas chipped in with 13, and Kenrick Edwards 9; the last five batters all failed to score.
Bowling for the St Vincent Grammar School, Alston Bobb jr took 4 for 11 and Zach Thomas 2 for 7, with extras contributing 27; St. Vincent Grammar School winning by 107 runs.